What Earrings Look Best With My Face Shape?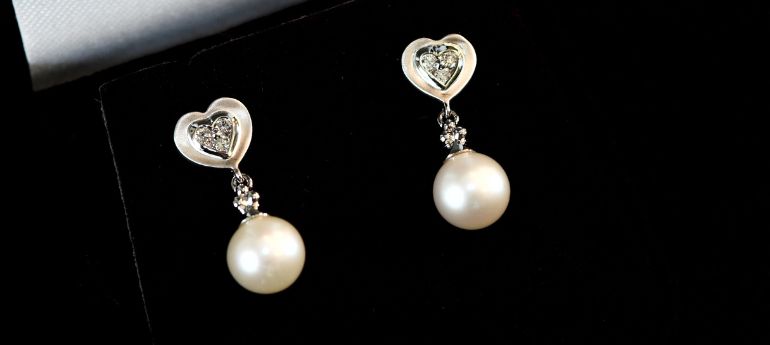 Accessories can elevate even the most basic outfit into a fashion statement. Particularly Jhumki earrings have gained popularity recently since they are the ideal combination of tradition and modernization. The right accessories may completely transform your look.
Jhumki earrings have been around since antiquity. They are attractive because of their bell-like shape and a few dangling details. From modern Western gowns to traditional Indian clothing like sarees and lehengas, they may effortlessly complement a variety of ensembles. There are a lot of different styles that are offered. Additionally, indian  Jhumki earrings reveal your individuality. These classic earrings have endured the test of time and are still a favourite among fashion fans everywhere. Indian jhumka earrings are the finest accessory to bring a touch of elegance and tradition to your appearance, whether you're wearing traditional clothing or a modernized outfit.  You can find many traditional Jhumki online. Dhirsons Jewellers have a variety of designs.
Various jhumka styles are appropriate for various facial shapes and situations. You may learn more about the Indian Jhumki earrings styles that go well with your face type in this article.
Oval Face:
 The most balanced and adaptable facial shape is frequently thought to be the oval. Numerous earring designs go well with oval faces. Finding kan ka jhumka that accentuates your natural beauty is the greatest strategy for choosing them. Therefore, it is best to choose Jhumki which are neither too long nor short, they should be of medium size. Jhumkas for oval face can be either dangling pieces or studs. Depending on the colour and style of your dress, you should choose a particular style of jhumka for oval face. If your dress has a minimalist design, then you can choose to wear jhumkas which can accentuate your outfit or vice versa. Jhumkas for oval face has many styles, as oval-faced people can pull off any look.
18Kt Gold Chandbaali 6545 can highlight both your attractiveness and your attire thanks to its distinctive design and superb craftsmanship. The design's swirls and its delicate characteristics captivate us with their beauty. Its attractiveness is enhanced by the stones that have been put into this pattern. You can buy these pairs of traditional jhumkas online.
Round Face: 
 Round faces give people a happy appearance. Therefore, jhumkas for round face can highlight their beauty and their clothing. The correct pair of jhumka earrings can make all the difference in bringing out your best features and achieving a well-balanced appearance. Buying traditional jhumkas online is a good choice as you will have a lot of variety. The greatest alternative for round faces is to wear long, dangling jhumkas since they serve to soften the roundness and highlight the attractiveness of their delicate features. The ideal option is to wear drop earrings, such as teardrops. Gemstone craftsmanship in jhumkas with intricate details is the best choice. It is recommended to wear earrings with studs, small loops, or less width to enhance your beauty.
The sparkling gemstone-encrusted 18Kt Gold Chandbaali 3960 is stunning. Its beauty is captured in the way it sparkles. This kan ka jhumka will look stunning on a young woman dressed in traditional attire. It has been very skillfully made, and its delicate details draw interest.
Heart-Shaped Face: 
 Faces with a heart shape exude natural sweetness and gentleness. The ideal pair of jhumkas may highlight these features while also adding a touch of sophistication. This face type can be enhanced by a variety of styles. The jhumka earrings you select will also depend on your personality and sense of style. The ideal choice is to use medium-sized and wide jhumkas because they add greater volume to the lower half of your face. Avoid wearing long, thin earrings since they only lengthen your face. Avoid wearing jhumkas that are too large or heavy since they may conceal your delicate features. The proper pair of jhumkas can highlight your delicate features, add grace and sophistication to your appearance, and highlight your unique attractiveness. You can by traditional jhumka earrings online buy searching for jhumkas for oval face, jhumkas for round face and so on.
18Kt Gold Jhumki 6796 is extraordinarily skillfully made. This pair is quite gorgeous, especially with the addition of the white pearls that provide delicateness. Any traditional or modern attire can seem stunning and alluring with these pair of Jhumkas.  The tiny danglings at the bottom have a lovely appearance.
Square-shaped face: 
 Faces with a square form exude power and assurance. Therefore, choosing Jhumkas that may provide softness and allure is recommended. The best course of action is to stay away from long, thin earrings. Additionally, it is preferable to stay away from square-shaped jhumkas because they just serve to emphasize your face's sharp angles. Selecting jhumkas that are circular or spherical and have a nice touch to them. Jhumkas in teardrop or floral styles are suggested because of their fashionable appearance and ability to draw attention to your clothes and facial features. The perfect pair of jhumkas can lend a touch of elegance  and make you look attractive.
The exquisite floral details on Dhirsons Jewellers' 18Kt Gold Jhumki 5169 help to draw attention to it. You will be the centre of attention if you wear these earrings to weddings. Your innate attractiveness will be enhanced and increased by this set of earrings.
Jhumkas are favoured pieces of Indian jewellery because of their elaborate designs and classic appeal. They are the most popular items of jewellery due to their beauty and appeal. They serve as a link between the past and the present. Young people today are seen wearing them with both their traditional and modern attire. For a while now, jhumkas have been popular in the fashion world.
Frequently Asked Question (FAQ): 
How do I determine my face shape for choosing the right jhumkas?
By taking measurements of your face length, forehead width, jawline width, and cheekbone width, you may identify your face shape. You have a triangle facial shape if your jaw is narrow and your cheekbones are wide. You have a rounded face if your jaw and hairline are rounded. You have a square-shaped face if your cheekbones, jaw length, and forehead breadth are all the same. You most likely have a heart-shaped face if you have the widow peak hairline.
What jhumka styles flatter round face shapes the most? 
There are numerous options for jhumkas for round faces. Long, thin, dangling earrings are ideal since they will draw attention to your delicate features. Teardrop-shaped earrings are the ideal design for jhumka earrings.
Can you suggest jhumka designs that suit square face shapes? 
It is advised to select Jhumkas that could offer softness and appeal. The best strategy is to avoid wearing long, thin earrings. Choosing jhumkas with a beautiful touch that is round or spherical in shape. Jhumkas in floral or teardrop shapes are recommended.
What jhumka styles work best for heart-shaped faces? 
Jhumkas that are too big or heavy should be avoided because they could hide your delicate features. Because they lend more volume to the lower side of your face, medium-sized, wide jhumkas are the best option. Collection 2019 Sale 70% Off Title for image