TRENDING BRACELET STYLES FOR EVERY SEASON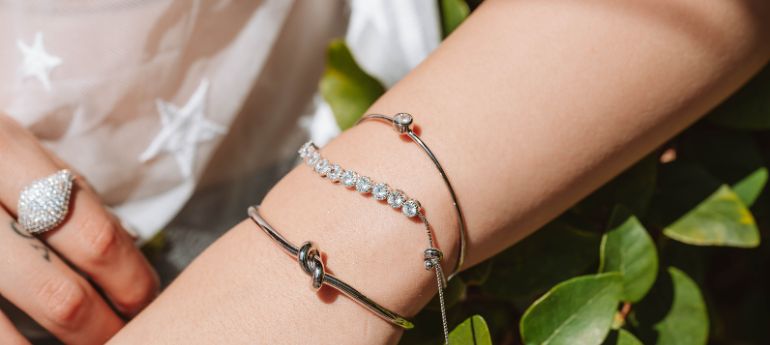 When we dress up, we feel attractive. Without distinctive jewellery, a stylish look becomes stale. Even the simplest dress may look magnificent with the right accessories. The current generation is completely in favour of wearing shirts, jeans, and crop tops. It can be made more unique by wearing a modest yet attractive bracelet. Various trending bracelet designs can help accentuate your outfit.
The attire is made even more magnificent and breathtaking by the classic flair that can be observed in some of the jewellery. Especially the trending gold bracelets which can make a traditional outfit look more enchanting. Bracelets can be seen as a person's unique way of expressing themselves, as well as a fashion statement and cultural icon. A stylish women's bracelet can be used to know more about her. Bracelets are one of the new trends that appear with each season. You will be amazed by the variety of styles that are offered in the market. With the appropriate accessories, you can pull off any outfit. Trending bracelets for ladies have been emerging almost every season. New statement-making jewellery is being created like stylish bracelets for women, trending gold bracelets etc.
The fashion industry is going crazy over these trendy current looks:
Charm Bracelets:
The fashion world has returned to its vintage looks! These trending women's bracelets have taken over the fashion industry for years. Even the most straightforward clothing can look put together thanks to the charm of a charm bracelet. These dangling bracelets are classic pieces of jewellery that have developed with time, making them more alluring. Stylish bracelets for women can be found in many places in Delhi. A stylish hand bracelet for women is a sign of her preference and her personality. Therefore, trending women's bracelets can be used to express oneself.
The various meanings that each person can attach to a character bracelet is its most appealing characteristic. It might serve as a milestone for someone, such as an anniversary or wedding, or it can serve as a symbol of family for another. They help people connect fashion and emotions as they are a treasure trove of memories.
18Kt Gold Bracelet 6835 is stylishly made, with elegance being its main motive. It is the ideal fusion of conventional jewellery and a dash of Western culture. It can make a statement while spicing up a look. This exquisite jewellery is just stunning. Dhirsons Jewellers provide some of the best designs for a stylish bracelet for ladies.
Bangles Bracelets: 
These bracelets, which are an ideal fusion of bangles and bracelets, are the most iconic and versatile accessories. In India, they also have a historical significance. In the West, they are worn as statement jewellery. They can be worn in many arrangements and stacked. Not only have that, but the numerous designs that can be seen on them given them a genuinely magnificent and one-of-a-kind appearance. By combining and matching these bracelets, wearers develop their distinctive style. They can be worn on casual outings as well as formal occasions. They can also wear them to weddings to stand out from the crowd with their understated yet exquisite appearance.
The elegance of the 18Kt Gold Bracelet 5558 makes it a perfect accessory for Western outfits. The wearer appears stunningly lovely thanks to the design's exquisiteness. The 18Kt Gold Bracelet 2459 is exquisitely crafted. This stylish bracelet for women is the most sought-after accessory for weddings because of its distinctive style. With its lovely and alluring motifs, it can transform the look of your leHEnga, saree, or any other traditional garment.
Beaded Bracelets:
These bracelets have been cherished jewellery for centuries, because of their intricate designs and details, which are crafted with great care. Almost every bracelet is unique, depending on the design, craftsmanship or the material it is crafted from. It can also make statements about the person and their taste. These trending bracelets for ladies are aesthetic and are worn by youngsters all over the world, pairing them with the  cutest outfits. There are various designs which are available like single strand, or multi standard, chunky or aesthetic, gold or wood etc.
18Kt Gold Bracelet 7747 is a single-strand beaded bracelet. This stylish hand bracelet for women is gorgeous and one-of-a-kind because of the different bead sizes. This bracelet can be used to enhance your outfit on a variety of occasions.
Chunky Bracelets: 
The women exude authority thanks to their strong and expressive designs. The idea that jewellery should be delicate and dainty has been challenged by these designs, which have gained popularity.  Even when you are wearing a t-shirt and jeans, a large bracelet can bring drama and flair to your outfit. It has many different designs that can be worn for a variety of events. Chunky bracelets are amazing and give the wearer a feeling of empowerment. They have developed over time and established a solid presence in the fashion business.
18Kt Gold Bracelet 4668 has been exquisitely crafted to make any outfit look stunning. This pattern can be worn with either casual or fancy attire. The elegance of this design can enhance anyone's beauty.
These trending bracelets are a jackpot since they may be worn to express oneself. Without designs for stylish hand bracelet for women, the many fashion trends that are taking over the business, fall short. The world of bracelets offers a vast range of designs, each with its special charm and meaning. These trending bracelets for ladies range from subtle to striking. The accessories are evolving to keep up with the fashion and jewellery industries. 
Frequently Asked Question (FAQ)
What are the popular bracelet materials for different seasons?
Gold jewellery can be worn during all seasons. Wooden and chunky jewellery is mostly preferred by people during the summer season. But, trending gold jewellery is used to customize outfits, whether it be a basic one or a traditional one.
What are the must-have bracelet colors for each season?
Usually the stylish bracelets for women have the colors red, yellow, green, blue and purple. All these colors symbolize various human qualities like red is for passion, yellow is for optimism, green is for compassion, blue is for inspiration and purple is for friendship. A stylish women's bracelet must have these colors.
What type of bracelets are suitable for outdoor activities in summer? 
There are a variety of styles for you to choose from like the beaded bracelet, nature bracelet, or the natural stone bracelet. Choose the style of the bracelets based on your taste, comfort and of course, trend. You can also customize your outfit by using different material for you bracelets.
Where can I find affordable yet stylish seasonal bracelets? 
You can shop for these yet stylish bracelets online as you will be able to find a vast variety of styles for your bracelets. You can also customize your bracelets according to your wishes. To find the best trending gold bracelets, you can go to Dhirsons Jewellers Lajpat Nagar. They have a very good collection with many designs. Collection 2019 Sale 70% Off Title for image