Exploring Latest Gold & Diamond Ear Tops Designs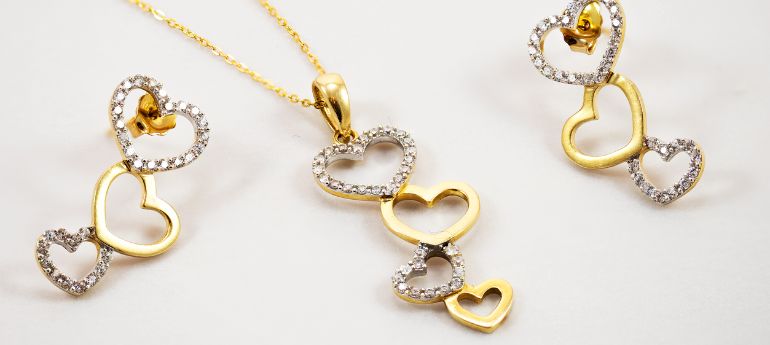 The essence of jewellery with sophistication is elegance. Since ancient times, gold jewellery has been alluring. Around the world, there are many unique diamond earrings designs. The ideal blend of heritage, history, and modernity may be found in jewellery today. People really enjoy this combination. Traditional diamond studs designs have become more popular and trendy nowadays. What matters most is how you wear it, not simply what you wear. The pure elegance of gold and diamond ear tips is unmatched by many other pieces of jewellery. Gold ear tops, commonly referred to as ear studs or earrings, have long been regarded as a sign of wealth and power. Often referred to be "a girl's best friend," diamonds are the picture of elegance. The phrase "best diamond earrings" takes centre stage when it comes to accessorizing with style and refinement. The timeless allure of classic diamond studs must be mentioned in any discussion of the best diamond earring designs.
Here are The Top 9 Latest Gold & Diamond Ear Tops Designs
1. Stud Earrings:
Classic & versatile, stud earrings are a timeless choice. They come in various sizes and can feature a single diamond or a cluster of smaller diamonds.
2. Hoop Earrings:
Gold and diamond hoop earrings can range from small and subtle to large and bold. Some designs feature diamonds along the entire hoop, while others have them concentrated on certain sections.
3. Dangle Earrings:
These earrings hang below the earlobe and can vary in length. They often feature diamonds arranged in intricate patterns or showcase a larger, more prominent diamond as the focal point.
4. Chandelier Earrings:
Elaborate & glamorous, chandelier earrings have a cascading design with multiple levels of diamonds & gold. They are often chosen for special occasions due to their dramatic appearance.
5. Ear Jackets:
These earrings have a unique design where a decorative element sits below the earlobe, while the stud part is worn traditionally on the earlobe. Diamonds can be incorporated into both the stud & the jacket.
6. Floral Designs:
Earrings inspired by flowers are quite popular. They may feature diamonds arranged in the shape of a flower or have gold petals surrounding a central diamond.
7. Geometric Shapes:
Contemporary designs often incorporate geometric shapes, offering a modern & sleek look. Diamonds may be arranged in squares, triangles, or other geometric patterns.
8. Personalized Designs:
Customization is on the rise, with people opting for earrings that reflect their personal style. Initials, birthstones, or unique symbols can be integrated into the design.
9. Mismatched Earrings:
A trend that has gained popularity is wearing mismatched earrings, where each ear features a different design. This allows for creativity & a personalized touch.
People have been mesmerized by diamonds' mesmerizing shine for ages. Diamonds not only increase the appeal of gold but also give any outfit a dash of glitz and refinement. Only when the wearer wears the diamond and gold ear tops with confidence can one truly appreciate their brilliance. The diamond earrings designs should go well with the wearer's facial features and hairdo. The best diamond earrings designs include a wide range of styles, from timeless classics to innovative creations. The style also differs depending on the occasion for which you are wearing it. Grand occasions call for jewellery that is as grand and exquisite. While everyday attire calls for some delicate and exquisite styles.
Additional Designs for Gold & Diamond Ear Tops
1. Minimalism:
People are fascinated by minimalism because of its inherent attraction. Therefore, diamond earrings designs for daily use have minimalist designs. Since minimalist designs are typically worn on a daily basis, the materials utilized to create them must be of the highest caliber. Simple, high-quality, and adaptable minimalist designs for diamond and gold ear toppers have redefined elegance. The concept of minimalism has given rise to many unique diamond earrings designs which showcase the intricate and finer details of the diamond and gold ear tops. Some of the diamond earrings designs for daily use include simple studs, solitaire diamonds, geometric shapes, soft textures, etc. They go well with both casual attire and formal attire. They complement evening gowns thanks to their modest elegance.
Due to its simplicity, 14Kt Tops with Gold & Diamond 4114 is extremely finely made and suitable for regular wear. While positioned in the centre of the gold, the diamond sparkles brilliantly. This jewellery item is an ideal illustration of traditional diamond studs design.
2. Nature Inspired Designs: 
All artists have always found inspiration in nature. Its amazing beauty serves as an endless source of inspiration. Nature-inspired patterns give jewellery, particularly diamond and gold ear tops, an alluring and organic elegance. jewellery with a natural aesthetic has a certain charm that appeals to people who value the beauty of the outdoors. There are many different patterns, including flower patterns, animal patterns, leafy patterns, branches and vines patterns, etc.  For a very long time, diamond earrings designs have frequently featured flowers. With their supple veins and graceful designs, leaves make for a delicate and refined pattern for diamond ear tops designs. You can search for diamond earrings new designs and find some of the trendy designs online.
The exquisitely made 14Kt Tops with Gold & Diamond 3783 look great with any attire. The diamonds inside the blossom give it an even more stunning appearance. The gorgeous 14Kt Tops with Gold & Diamond 6486 would look fantastic with any formal attire. These diamond earrings were expertly crafted.
3. Geometric Designs: 
Diamond ear tops designs with geometric patterns have a contemporary appearance. They have a modern, minimalist design thanks to their sharp edges and straight lines. Perfect symmetry is a common feature of geometric ear tips. Geometric patterns are excellent options for a variety of events because they may be either dramatic and eye-catching or delicate and discreet. There is a geometric pattern to fit your needs, whether you're looking for an accessory for everyday use or a statement piece for a special occasion. Given their adaptability, geometric patterns offer countless design opportunities. Geometric patterns that overlap and interlock can produce fascinating optical illusions in diamond ear-top designs. You will be able to see some of the best diamond earrings designs at Dhirsons Jewellers.
The geometric symmetry of 14Kt Tops with Gold & Diamond 9167 is evident in its design. This diamond and gold stud features a basic design that is incredibly delicate and detailed. The alignment and setting of each diamond are just gorgeous. These studs can also be worn every single day.
You can add unique touches to your creations to give them greater sentimental value. But be sure to select styles with which you are comfortable, and ask some jewellers for their advice. You can search for 'diamond earrings new designs' for inspiration.
Ear toppers made of gold and diamonds have endured through the ages as representations of sophistication and elegance. The industry's capacity to adjust to shifting tastes while maintaining the enduring charm of these superb jewels is demonstrated by their design evolution. No matter if you choose traditional styles or follow modern trends, the elegance of gold and diamond ear tops is certain to win over hearts and turn heads for countless generations to come.
Frequently Asked Question (FAQ)
What are gold and diamond ear tops, and why are they considered elegant? 
Ear tops made of gold and diamonds blend the elegance of gold with the lasting appeal of diamonds. Due to their classic style, the richness connected to both gold and diamonds, the brilliance of the diamonds, their versatility, and their beauty, they are regarded as elegant.
What factors should I consider when choosing gold and diamond ear tops? 
Due to the high cost of these jewellery items, choosing gold and diamond ear tips is a crucial decision. Budget, diamond quality, diamond shape, kind of gold, and personal preference must all be taken into consideration.
Are there specific gold and diamond ear tops designs suitable for daily wear? 
There are particular styles of gold and diamond ear toppers that are suitable for daily wear. A timeless look, comfort, and durability should all be taken into account while selecting diamond earrings for daily wear. Make sure the earrings are built with high-quality materials and craftsmanship to withstand regular wear and hold their attractiveness over time. Collection 2019 Sale 70% Off Title for image