Trends in Polki Jewellery: What's in and What's Out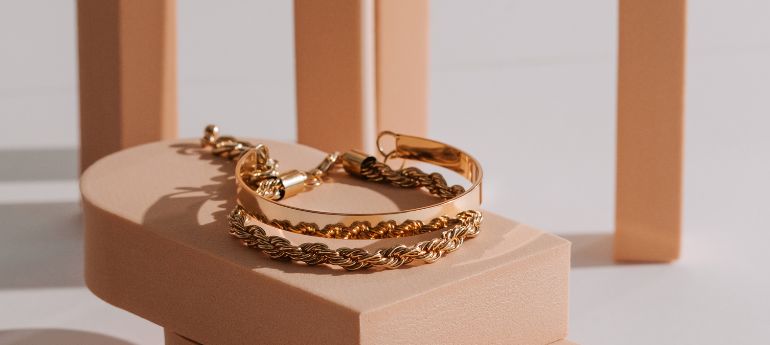 Polki jewellery is a beloved option for ornamentation as it is a timeless representation of elegance and tradition. The timeless appeal of uncut diamonds and Polki's rich heritage combine to make their jewellery very alluring. Polki jewellery, which has its roots in Mughal traditions, has easily blended into contemporary fashion.
What is Polki Jewellery?
Polki jewellery set is a type of traditional Indian jewellery made with uncut diamonds. The natural brilliance and brightness of these raw diamonds are amplified by being set on a base of gold or silver. The distinctive and elaborate designs of polki jewellery, which are made by talented artists who have honed their craft over generations, are what distinguish this type of jewellery.
The history of polki jewellery dates back to India's Mughal period. Under the Mughal rulers' support, the craft of creating polki jewellery thrived during this period. Polki jewellery's exquisite craftsmanship and rapid rise in popularity made it a status, wealth, and royal emblem. One of the things that makes Polki jewellery unique is how versatile it is. It is a popular option for weddings, festivals, and daily wear since it elegantly combines both traditional and modern attire.
Here are the top trending Polki Jewellery
1. Polki Earrings:
Earrings are a must-have item that can transform any look, and polki earrings are no exception. Polki earrings, which range from simple studs to elaborate chandbalis, are meant to turn heads. Their distinctive patterns and brilliant diamonds will draw attention right away and give your appearance a hint of refinement. The current trend favours larger, striking Polki earrings that draw attention. These earrings frequently combine coloured gemstones and Polki diamonds in a stylish way that produces a captivating contrast. Some of the best jewellery designs can be found at Dhirsons Jewellers. The stunning 18Kt Tops with Gold 2199 from Dhirsons Jewellers shine brightly and catch the eye.
2. Polki Necklace Sets: 
A polki necklace set is a classic piece of jewellery that never goes out of style. These sets often include matching necklaces and earrings, which combine to create a gorgeously put-together appearance. A polki necklace set is guaranteed to leave an impact, regardless of your preference for a more ornate choker or a simple pendant necklace. Polki necklace sets embody grandeur and are more than just a fashion accessory. Detailed Polki designs enriched with coloured gemstones are popular right now. For lavish events like weddings, polki necklace sets are a need.
3. Polki Diamond Jewellery: 
The classic elegance of polki and the luxurious look of diamonds are combined in polki diamond jewellery. These exquisitely made jewels feature a striking contrast between polished and uncut diamonds, all expertly crafted. The stunning blend of diamonds' shine and polki's rustic appeal makes polki diamond jewellery an extremely exquisite option. The demand for Polki diamond jewellery remains high. These jewels create a mesmerizing attraction by showcasing the uncut diamonds' genuine, raw beauty.
The height of royal brilliance are polki diamond sets. These sets include a matching mang-tikka, earrings, and necklace. Choosing larger, more elaborate Polki diamond sets that radiate luxury and elegance is the current trend. Coloured gemstones and Polki diamonds combine to produce an eye-catching contrast.
4. Polki Bracelets: 
A fashionable effect can be achieved by stacking polki bracelets with other bracelets, or by wearing them alone. These bracelets frequently include beautiful diamond embellishments and elaborate designs. Your wrists will seem more elegant with polki bracelets, whether you choose a bold cuff or a delicate bangle. Polki bracelets are seeing an enormous rise in the jewellery industry. Dhirsons Jewellers' 18Kt Gold Bracelet 2459  is a gorgeous bracelet that looks great with both casual and formal attire. Its brilliant splendour makes any ensemble seem better.
5. Polki Pendant Sets: 
Enhancing your neckline and adding a sophisticated touch to any ensemble may be achieved with an elegant polki pendant set. These sets frequently come with matching earrings and a pendant necklace, giving the ensemble a polished appearance. The intricate designs and shimmering diamonds of polki pendant sets will instantly elevate your style. The current trend focuses on intricate designs with a central Polki diamond or coloured gemstone pendant that dangles gracefully from the necklace.
Although classic Polki jewellery still has appeal, modern styles are becoming more and more popular. Contemporary Polki jewellery frequently combines a variety of metals, creative settings, and asymmetrical designs. This makes it appropriate for daily use and meets the needs of individuals who like a simple look. It's crucial to take into account the occasion, your attire, and your style while selecting polki jewellery for various events. Consider wearing bold pieces, such as ornate earrings or chokers, for weddings and other joyful occasions. Simple pendant necklaces or little studs would do for more relaxed settings.
Frequently Asked Questions
What is Polki jewellery, and how does it differ from traditional diamond jewellery? 
The use of uncut diamonds, open-back settings, and traditional craftsmanship give Polki jewellery a distinctive, vintage appeal that makes it stand out. It is not the same as traditional diamond jewellery, which is typically thought of as more formal and sophisticated and is characterized by cut, faceted diamonds that highlight brightness. The decision between the two is based on personal taste, the event, and the intended look.
What are the latest Polki jewellery trends for this season or year? 
This season's or year's newest Polki jewellery styles combine traditional elegance with cutting-edge design. Polki chokers, layered necklaces, statement earrings, bangles and bracelets, maang tikkas, nose rings, rings, anklets (payals), and modern designs are a few of the major trends in jewellery right now. These patterns emphasize the appeal of bigger, more elaborate Polki jewellery items along with the use of colourful gemstones to produce eye-catching contrast.
Is traditional Polki jewellery still in fashion, or are contemporary designs more popular now? 
The classic Polki jewellery is still in style, valued for its cultural significance and ageless charm. Modern designs are becoming more and more fashionable, though. While classic Polki jewellery is still a great option, modern designs feature unique settings, asymmetrical patterns, and a fusion of several metals. The choice between modern and classic designs frequently comes down to personal taste, the situation, and a preference for a simpler look. Both forms coexist and serve a wide spectrum of jewellery enthusiasts.
What types of Polki settings and motifs are trending in Polki jewellery? 
Currently popular in the world of polki jewellery are several settings and motifs. Open-back settings are a popular choice for polki settings because they bring out the inherent brightness of uncut diamonds. Floral and leaf patterns are very popular. The themes and settings of these pieces combine classic elegance with modern design, providing fans of polki jewellery with a wide array of options.
How can I ensure the authenticity and quality of polki jewellery when making a purchase? 
Pick a trustworthy shop and ask for a certificate of authenticity if you want to make sure that polki jewellery is genuine and of high quality. Examine the workmanship closely and search for signs of pure metal. Inquire about the origin and maintenance of the jewellery. Compare prices from several retailers and be wary of exceptionally low costs. To ensure quality, review the return policy and take into account independent evaluation. Collection 2019 Sale 70% Off Title for image