How To Choose The Right Jewellery In Delhi For Your Needs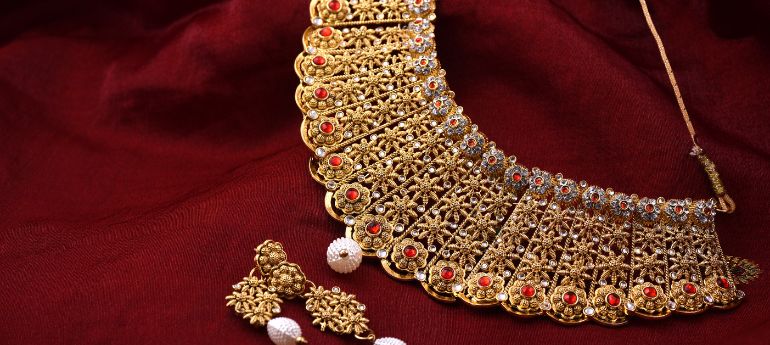 In addition to its rich history and legacy, Delhi, the dynamic and culturally diverse capital of India, is well-known for its thriving jewellery sector. When exploring the vibrant city of Delhi, the numerous jewellery stores Delhi offer a captivating array of exquisite ornaments for every taste and occasion. When it comes to stunning diamond jewellery, discriminating Delhi consumers seek out the best diamond jewellers in Delhi for their unrivalled craftsmanship and outstanding designs. There are a lot of jewellers in the city, ranging from modern shops to classic family-run businesses, and they all have a huge selection of beautiful jewellery. However, with so many options available, choosing the best jeweller in Delhi might be difficult. Many jewellery stores in Delhi are well-known for their intricate designs and provide a wide selection of pieces.
Steps For Choosing The Right Jewellery:
1. Assess Your jewellery needs:
Knowing exactly what you need in terms of jewellery is crucial before you start looking for the right jeweller. Are you in need of a wedding band, an engagement ring, or a unique present, or are you just curious about the newest styles? Finding a jeweller that specializes in the kind of jewellery you want can be easier if you know what you specifically need.
2. Examine Your Choices: 
There is a wide variety of jewellers in Delhi, such as Dhirsons Jewellers in Lajpat Nagar. Ask friends and relatives for referrals, browse jeweller websites, and conduct in-depth research on your selections. List possible jewellers according to their reputation, client testimonials, and the kinds of jewellery they sell. One of the top jewellers in Delhi will undoubtedly have the jewellery you're looking for.
3. Verify the Certification and Credentials: 
Ensuring a jeweller in Delhi has the required qualifications and certifications is crucial. Trustworthy jewellers ought to be members of trade associations, such as the Gem and Jewellery Export Promotion Council (GJEPC) in India. In addition, especially for products like diamonds and valuable jewels, they should offer certifications attesting to the authenticity and quality of the materials used in their jewellery.
4. Evaluate the craftsmanship and quality: 
In the realm of jewellery, craftsmanship and quality are crucial factors. Check the materials' quality, looking at things like the clarity of the gemstones and the purity of the gold. Verify that every piece has been manufactured with exacting attention to detail in both its design and production. To help you make an informed choice, a trustworthy jeweller should be open and honest about these factors.
5. Check out the Showroom: 
It's best to visit a jeweller's showroom in person to gain a better understanding of what they have to offer. This gives you the chance to examine and feel the jewels in addition to assessing the store's ambience and presentation. A jeweller's dedication to client pleasure may be indicated by a tidy and welcoming showroom.
6. Examine the Style and Design: 
Every jeweller has their own aesthetic and design language. Examine their offerings to determine whether their styles correspond with your individual preferences and tastes. An ideal jeweller should have pieces that complement your style, whether you want modern or traditional Indian jewellery or a combination of the two.
7. Recognize Your Customization Options: 
Ask the jeweller about their modification choices if you have a particular design in mind or would like to make a personalized piece of jewellery. Together, you and a competent jeweller should be able to realize your idea for the piece—from selecting the materials to designing and creating it.
8. Verify Prices and Available Payment Methods: 
Of course, the cost is a major consideration when selecting a jeweller. To make sure you are getting a fair return on your investment, compare the prices of similar pieces from several jewellers. One such jewellery store Delhi where we can find the greatest jewellery at reasonable prices is Dhirsons Jewellers in Lajpat Nagar. To make your purchase more accessible, ask about additional payment alternatives like financing or instalment plans.
Choosing the best jeweller in Delhi for your particular requirements is an important choice because the jewellery you buy has both sentimental and financial significance. You can confidently traverse the dynamic and diversified world of the jewellery industry in Delhi. It's important to keep in mind that a respectable jeweller should provide memorable and pleasurable shopping experiences in addition to superior merchandise.
Explore more collections of best jewelry in Delhi like Polki Jewellery in Delhi, Bridal Jewellery in Delhi & more
Frequently Asked Questions (FAQ)
What should I consider when choosing a jeweler in Delhi? 
Reputation is the most important factor. Seek out a jeweler with a strong track record for genuineness and quality. Online reviews or referrals from friends and family might offer insightful information. It's important to pick a jeweler who offers a wide variety of jewelry in terms of styles, patterns, and gemstones. Assess their credentials as well, making sure they meet industry requirements for legitimacy and grade. Pricing transparency and a commitment to educating consumers are also essential. A trustworthy jeweler will supply all relevant information, including as costs, guarantees, and certificates. Lastly, evaluate their customer service. A quality jeweler should provide first-rate after-sale care, such as cleaning, resizing, and repairs. When selecting a jeweler in Delhi, keeping these things in mind will enable you to make an informed choice.
What types of jewelry do they specialize in? 
The jewelry market in Delhi has a wide selection, ranging from classic gold and diamond pieces to modern styles and jewelry made of gemstones. While some jewelers concentrate on creating delicate, handcrafted traditional pieces, others could specialize in creating modern, one-of-a-kind creations. Furthermore, some jewelers are well-known for their expertise in custom-made jewelry.
What is their return and exchange policy? 
It is imperative to ask about this policy before to making a purchase as it may differ among jewelers. Seek out jewelers who provide a clear, accommodating return and exchange policy that lets you send back or replace jewelry that doesn't live up to your expectations within a fair amount of time. Keep an eye on things like the length of the return window, the requirements for returns, and any associated costs.
How can I determine the jeweler's reputation and reliability? 
It is crucial to carry out in-depth investigation and take into account a number of variables in order to assess a jeweler's reputation and dependability. Start by asking friends, relatives, or internet reviews for ideas. A trustworthy jeweler frequently has a track record of satisfied clients and word-of-mouth recommendations. Check out the jeweler's actual location to see how professional and extensive their selection is. To guarantee transparency, find out about their sourcing procedures and ethical standards. Additionally, study their warranty and return policies to determine their dedication to customer happiness. Collection 2019 Sale 70% Off Title for image