Gold Jewellery Trends: What's In And What's Out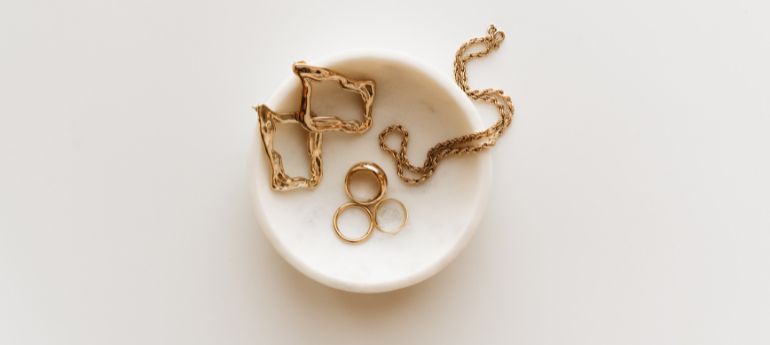 Nothing quite compares to the attraction of gold jewellery when it comes to adorning ourselves with timeless beauty. Gold jewellery is still associated with wealth, style, and tradition, whether it's a sophisticated gold necklace, a delicate gold ring for a woman, or a pair of classic gold earrings. Fashion trends are constantly changing, and the world of gold jewellery is no different. Gold has been prized for generations and is still a popular material for jewellery. It is an essential piece for any jewellery collection due to its ageless beauty and adaptability. Gold jewellery is a timeless piece of luxury that appeals to people of all ages and cultures. Gold jewellery designs have grown to include a variety of styles, ranging from basic elegance to intricate, contemporary creations.
Here are the Top Trending Gold Jewellery
1. Gold Earrings for women:
The main trend that's now in style when it comes to gold earrings is minimalism. There is an amazing variety of gold earrings for women that suit different preferences and events. Gold earrings designs that are lovely but simple are making a great impression. Among stylish women, gold studs, tiny hoops, and subtle drops are very popular. These strikingly simple gold earrings are a timeless and adaptable option that mixes well with both refined and informal ensembles. Women are choosing minimalistic gold earrings that are more simple and comfortable than bulky and elaborate designs. Gold earrings for women, whether you choose a classic style or a more modern one, are a timeless representation of elegance and sophistication.
Expert craftsmen have created the 14Kt Tops with Gold & Diamond 1023 from Dhirsons Jewellers with artistic flair. Its classic design makes it suitable for daily use.
2. Gold Ring for Women: 
 Gold ring for women is no longer exclusively for symbolism or engagement. Gold rings are becoming popular among contemporary ladies as a means of personal expression. Innovative, customized, and one-of-a-kind gold ring designs are popular right now. There are a plethora of options to consider, ranging from showy cocktail rings to stackable rings with personalized inscriptions. This produces a distinctive and fashionable look that may be altered to fit an individual's preferences. The use of elaborate filigree work is another trend that is popular in gold rings. Any gold ring is made more feminine and elegant by these delicate designs. Filigree work is a trend that is here to stay, whether it's used in a statement cocktail ring or a straightforward band.
3. Gold necklace for women: 
Bold and striking designs are creating waves in the fashion world when it comes to gold necklaces. Statement gold necklaces have the power to elevate an ordinary appearance into something spectacular. Necklaces with layers, ornate pendants, and chunky chains are fashionable right now. These accessories give any ensemble drama and personality. A gold necklace for women is a timeless and versatile accessory that emanates elegance and luxury.
Although delicate and exquisite necklaces continue to be fashionable, the demand for bolder and more statement necklaces is gradually overtaking them. Whether you're wearing a gold necklace for special occasions or daily wear, the trend is toward strong statements.
4. Gold Jhumkas for Women: 
In the world of fashion, jhumkas have returned with a bang. Designers are creating beautiful gold jhumka patterns by fusing traditional workmanship with modern aesthetics. They are fashion-forward, yet with a dash of ethnicity and culture. The newest trend in gold jhumka designs is the combination of modern and traditional components. These jhumkas combine modern geometric shapes with detailed filigree work, creating a stunning combination of the old and new. Using coloured gemstones in gold jhumka patterns is another popular trend. These brilliant jhumkas, whether they are a single stone or a group of stones, give a lively touch to any outfit.
The finest designs of gold jewellery may be found at Dhirsons Jewellers. The stunning 18Kt Gold Jhumki 6796 will elevate your entire look with its brilliant charm.
Modern and traditional elements are perfectly balanced in the trendy gold jewellery designs. These products appeal to the constantly changing interests of today's consumers with their inventive designs, geometric patterns, and distinctive shapes. They act as a link between traditional and contemporary fashion views. Gold jewellery has a timeless appeal that transcends trends and continues to be associated with elegance and wealth. Even though bold necklaces, revived gold jhumkas, minimalistic gold earrings, and distinctive gold ring designs are present in today's fashion, it's important to select gold jewellery that complements your taste and personality.
Frequently Asked Question (FAQ)
What are the latest gold jewellery trends for this year? 
 This year's most recent gold jewellery trends include a move toward simpler gold earring designs, an increase in women's desire for distinctive and personalized gold ring designs, statement gold necklaces, a modern take on the classic gold jhumka earrings, and an emphasis on modern gold jewellery designs that strike a balance between tradition and modernity. These fashions place a strong emphasis on uniqueness, adaptability, and the fusion of traditional and cutting-edge looks.
Are traditional gold jewellery designs still in fashion, or should I opt for contemporary pieces? 
Both traditional and contemporary gold jewellery designs have their place in the fashion world. Classical designs are still in style and valued for their cultural and historical relevance because of their eternal charm. On the other hand, modern items are becoming more and more well-liked due to their creative interpretations and capacity to unite traditional and modern styles. Your preferences and style ultimately determine which type of gold jewellery is best for you. While contemporary designs allow for more individual expression and creativity, traditional designs convey a feeling of legacy and cultural significance.
What types of gold finishes are trendy right now? 
Many other shades of gold finishes are fashionable right now, but yellow gold is still a classic. But due to their adaptability and capacity to work well with a variety of skin tones, white gold and rose gold are also becoming more and more fashionable. These various gold finishes make them a fashionable option for modern jewellery because they let people select the shade that most closely matches their own sense of style and fashion sense.
Are there any sustainable or ethical gold jewellery trends gaining traction? 
Growing environmental and ethical concerns have led to a considerable rise in the popularity of sustainable and ethical gold jewellery styles. Customers are requesting more and more jewellery made of ethically sourced gold, sometimes known as "fair trade gold" or "ethical gold." These trends place a high value on supply chain transparency, guaranteeing that the gold used is harvested and processed in a socially and environmentally responsible manner. The trend of recycled gold is a result of efforts to reduce the environmental impact of mining by promoting the reuse of pre-existing gold materials. Collection 2019 Sale 70% Off Title for image