Trending Pendant Designs for Every Style and Occasion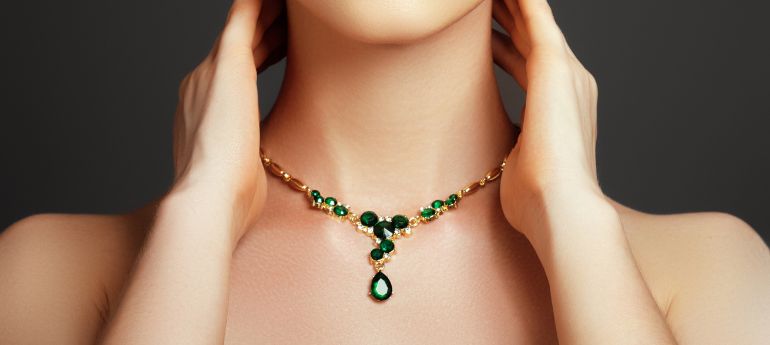 In the world of jewelry, Dhirsons Jewellers stands out as a source of excellence, boasting a collection of gold and diamond pendants that surpass mere decorative items. The pendant's beauty for Dhirsons goes beyond aesthetics; it symbolizes the wearer's character and the experiences that make them who they are. Our curated collection of pendants unites timeless refinement, groundbreaking creativity, and individual emotions in a meticulously crafted harmony of precision and quality. From diamonds to gold and symbols, our collection has been curated to cater to diverse tastes and event types. Together, let us explore the uncharted territory of each pendant for women, an intersection of artistry, skill, and unlimited personal expression. From understated Diamond pendant set to gold pendant necklace that whisper in their unpretentiousness to intricate designs that evoke the essence of nature, our pendants are more than just accessories; they are artistic expressions that connect with your spirit. With each pendant, a story awaits to be written, becoming an integral part of your narrative. Together, let us start this beguiling expedition of pendent excellence, from diamond pendant necklace to gold pendant for women, as we lead you through the captivating realm of innovative designs that honor your distinctiveness, refine your sense of style, and memorialize the enduring importance of your life. May our diamond pendant, gold pendant and other pendants embody the beauty of your uniqueness, honoring your accomplishments and the cherished moments that have molded your life. 
Chain with Cobra-Design Pendant: 
A Chain with Cobra Design Pendant's attraction speaks of the entwined mystique and grace. This pendant, which is made with a detailed cobra motif, combines beauty with symbolism. The cobra, a symbol of knowledge and metamorphosis, is expertly portrayed in the pendant's design, making it a striking item that oozes strength and beauty. The pendant hangs smoothly on the wearer's chest due to the chain, which also enhances the pendant. The Chain with Cobra Design Pendant is an outstanding option for individuals who value jewellery that tells a story and adds a touch of enigmatic appeal to their ensemble thanks to its special combination of creativity and meaning. 
Shape of Pendant Drop: 
The Pendant Drop in Shape is a monument to the elegance of simplicity. This pendant easily lends a sense of refinement to any outfit because to its simple lines and minimalist design. Its delicate drop shape draws attention with its modest beauty by emphasising the neckline. The Pendant Drop in Shape boosts your style while letting your unique personality shine, whether it is worn as a daily item or with formal wear. This necklace serves as a reminder that often the simplest designs have the greatest impact. 
 
American diamond-adorned: 
Adorned with American Diamond is a pendant that embodies luxury and glamour for people who admire the brightness of diamonds. This pendant meticulously preserves the charm of a traditional diamond item without sacrificing quality or price. It is set with gleaming American diamonds. All eyes are pulled to its bright attractiveness due to the amazing pattern the arrangement of stones has made, which sparkles with every movement. The Adorned in American Diamond pendant is the ideal option for special events or as a classic addition to your jewellery collection since it enables you to luxuriate in the beauty of diamonds without going over budget. 
Italian Chain with Two Large Circles: 
The Italian Chain with 2 Big Circles pendant is a celebration of modern design and creativity. The dual circle pendant exudes balance and harmony in its design as it hangs from an elegant Italian chain. This pendant skillfully combines simplicity and sophistication while giving a touch to modern design. The interaction of the two circles produces a dynamic visual effect that gives your appearance a hint of mystery. With this pendant, you can show off your refined taste and adaptability in style as you go from casual outings to more formal occasions with ease. 
2 Locks on a Rose Gold Chain: 
A combination of style and symbolism may be found in the pendant, Rose Gold Chain with 2 Locks. This pendant, which is made of enticing rose gold, has two beautifully dangling locks with complex designs on them. In this pendant, locks—which typically stand for security and dedication—take on new significance. They provide a feeling of interest and curiosity as they sway with movement. The Rose Gold Chain with 2 Locks pendant adds a touch of sentiment and allure to your look, whether you wear it as a symbol of love, a declaration of personal ambitions, or just as an attractive piece of jewellery. 
Italian Chain with Circle Pendant 
The Italian Chain with Circle Pendant brings elegance to new heights. The oblong pendant exudes timeless beauty and grace as it hangs from an elegant Italian chain. This pendant's gracefully created circular design, which frequently represents unity and eternity and creates a piece that resonates with symbolism and aesthetics. This pendant emanates a sense of refinement that goes well with a range of looks and occasions, whether worn alone as a statement piece or layered with other necklaces. The Italian Chain with Circle Pendant serves as a reminder that sometimes the most traditional styles are the ones that stand the test of time. 
With a carefully curated selection of gold and diamond pendants that endure the test of time and fashion in a world full of fads, Dhirsons Jewellers shines as a light of authenticity. Our pendant designs aren't just ornaments; they're wearable narratives that honour your path, your sense of fashion, and your dreams. You have the ability to express your uniqueness, make a statement, and make an everlasting impression with each pendant. Our dedication to quality extends beyond appearances. To ensure that each pendant not only dazzles the eye but also endures the test of time, we painstakingly choose the best materials and uphold the highest standards of craftsmanship. Every piece is a labour of love, thoughtfully created to accompany you through life's most treasured moments, from the mesmerising brightness of diamonds to the cosy embrace of gold. 
Whether you're drawn to the timeless allure of diamonds, the sentimental allure of gold pendant charms, the ethereal beauty of nature-inspired designs, the contemporary edge of geometric pendants, the vintage grace of antique-inspired pieces, or the personalised touch of custom name pendants, Dhirsons Jewellers has a piece that speaks to your spirit. With each pendant, you're not just accessorising yourself; you're embracing your personality, recognising your individuality, and bringing a touch of refinement and elegance to every outfit.  As you browse our collection, keep in mind that these pendants are more than just accessories; they are creative expressions that tell your story and form an essential part of your own journey. Join Dhirsons Jewellers and let them take you on this magical journey of individuality and grace. Find the pendant that speaks to your soul, celebrate your uniqueness, and leave a lasting mark with every use. You're investing in a work of art that captures the essence of who you are and the legacy you want to leave behind when you buy jewellery from Dhirsons Jewellers, not just a piece of jewellery. Dhirsons Jewellers' magic will help you to adorn yourself, and your pendant will express your individual tale in a timeless way. 
What are some trending pendant designs for different styles and occasions? 
Trending pendant designs include a wide range of styles and events, from traditional diamond solitaires to nature-inspired themes and geometric shapes. There is a pendant design that perfectly suits your individuality and the occasion you're attending, whether you're looking for subtle elegance or big statement pieces. 
Can you recommend pendant designs that are suitable for casual everyday wear? 
Think about tiny and minimalist pendant designs for regular casual use. To add a bit of personal style without overpowering your outfit, delicate chain pendants with little symbols, initials, or geometric forms are ideal. You may express your originality subtly with these lightweight, adaptable designs that effortlessly go with your everyday attire. 
What pendant designs are popular for formal or special occasions? 
Pendant designs with a hint of glamour and sophistication are more popular for formal or special occasions. Think about statement jewellery with larger diamonds, stunning diamond pendants, or filigree designs. At weddings, galas, and other notable events, these designs not only improve your dress but also draw appreciation from people around you. Collection 2019 Sale 70% Off Title for image