DIY Bracelet Ideas: Handmade Jewelry for Women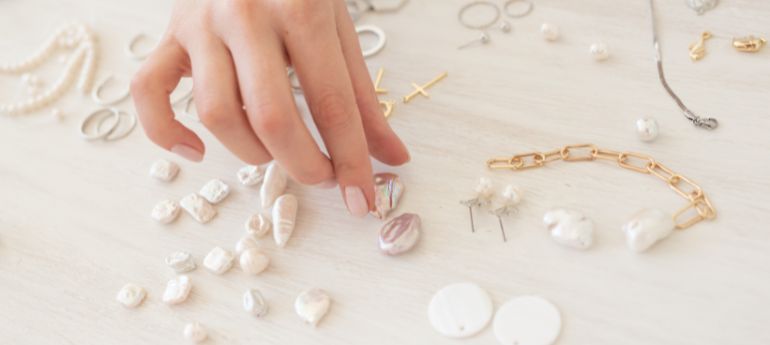 Personalized jewelry design assumes a distinctive charm within a society prioritizing bespoke expression. For connoisseurs of fine jewellery like bracelet for womens, Dhirson's presents an opportunity to indulge in the craftsmanship of designer bracelets for women, DIY bracelets. Channel your innate talent through the process of creating captivating pieces, meshing harmoniously with Dhirsons' lavish array. Here, you will find innovative and designer bracelets that blend artfully with the captivating appeal of Dhirsons' necklaces. Refine your individuality through craftsmanship that balances elegance with Dhirson's luxurious bangle bracelets for women and ladies bracelet gold.
Diamond bracelet for women by Dhirson provide a spectacular selection for unleashing your artistic passions. Starting points often involve choosing the ideal shining gold chain bracelet womens to underpin our artistic endeavors. Elevate your look with diamond-enhanced charm selections, tailored to complement your tasteful preferences. Beyond mere ornamentation, these pieces represent the unparalleled skill found within Dhirsons' jewelry collection. Boasting an impressive selection of superior diamonds, Dhirson caters to artistic imagination with precision craftsmanship.  Each charm embodies classic taste and skillful workmanship with careful choice. From the moment you choose them, these intricate designs of gold bracelet for women serve as a testament to the unparalleled skill sets held by Dhirsons, leaving no doubt about their standing as master artisans of precious metals and gems alike.
 
The 18Kt Gold Bracelet 2459 from Dhirsons Jewellers is a beauty that elegantly graces the wrist. It exudes an ageless grace. The bracelet, which was meticulously crafted, displays the delicate interplay of gleaming 18Kt gold links that emit a cosy glow. The traditional style smoothly transitions from day to night, making it a versatile addition to any jewellery collection. The safe clasp assures a secure fit, and Dhirsons' trademark guarantees exquisite craftsmanship. Due to its exquisite craftsmanship and sumptuous appeal, this bracelet is an investment in superb design and a representation of enduring beauty. 
18Kt Gold Bracelet 5558: The sumptuous charm of the 18Kt Gold Bracelet 5558 from Dhirsons Jewellers will elevate your jewellery collection. This bracelet, which was expertly crafted from the finest 18Kt gold, embodies elegance and luxury. The bracelet is a statement piece for a variety of situations thanks to its design, which combines modern aesthetics with classic attractiveness. Each link is evidence of Dhirsons' dedication to quality workmanship, creating a piece that oozes toughness and sophistication. The 18Kt Gold Bracelet 5558, with its flawless fusion of design and craftsmanship, is more than just a piece of jewellery; it is a representation of the wearer's refined taste and appreciation for life's finer things. 
The 18Kt Gold Bracelet 8983 by Dhirsons Jewellers captures the essence of contemporary elegance. The fine gold links that make up its intricate pattern harmoniously mix to offer brilliance to any outfit. You may confidently adorn your wrist with the bracelet because of the clasp's secure and pleasant fit. This bracelet, which is made from fine 18Kt gold, is more than simply a piece of jewellery; it is a piece of art that perfectly embodies luxury and flair. The 18Kt Gold Bracelet 8983 is a monument to Dhirsons' commitment to exquisite craftsmanship and refinement, whether worn alone as a show piece or combined with other bracelets. 
With the 18Kt Gold Bracelet 8254 from Dhirsons Jewellers, sophistication commands attention. Intricately carved 18Kt gold links that crisscross to produce a breathtaking visual effect are included in this gorgeous item, which is a celebration of accuracy and artistry. The bracelet's design achieves a harmonious union of modern aesthetics with classic allure, guaranteeing that it will continue to be a beloved item for many years to come. It fits snugly thanks to the reliable clasp, enabling you to wear it with comfort and assurance. Take your style to the next level with this extraordinary bracelet, which is the epitome of Dhirsons' dedication to quality and the epitome of luxury and elegance. 
18Kt Gold Bracelet 8400: The 18Kt Gold Bracelet 8400 from Dhirsons Jewellers is a tribute to the company's history of excellent craftsmanship. It exudes luxury and grace. The bracelet, which is made from superb 18Kt gold, has incredibly detailed links that have a mesmerising aesthetic appeal. Each component bears witness to Dhirsons' meticulous attention to detail and dedication to producing items that withstand the test of time. You may adorn your wrist with assurance and poise thanks to the reliable clasp's comfortable fit. The 18Kt Gold Bracelet 8400, which embodies the spirit of Dhirsons' jewellery artistry, is a striking expression of elegance and luxury whether worn alone or in combination with other items. 
Those who want to combine their creativity with luxury and elegance are passionately drawn to the appeal of handmade jewellery. This sentiment is understood and embodied by Dhirsons Jewellers, which provides a line of gold and diamond jewellery that is the pinnacle of artistry and beauty. Our suggestions for DIY bracelets perfectly capture the spirit of originality and self-expression, fitting in well with the Dhirsons ethos. Remember that when you begin your creative journey, the same commitment to quality and craftsmanship seen in Dhirsons' jewellery will be the light that guides your hands as you create bracelets that beautifully tell your individual story. Let Dhirsons be your inspiration as you explore the alluring world of DIY jewellery making. 
People who want to combine their creativity with elegance and luxury find the allure of handmade jewellery to be quite compelling. Since Dhirsons Jewellers is aware of this attitude, they provide a line of exquisite gold and diamond jewellery. Our DIY bracelet concepts capture the essence of individualism and self-expression, elegantly blending with the Dhirsons philosophy. As you begin your creative journey, keep in mind that the same commitment to quality and creativity seen in Dhirsons' jewellery serves as the compass that directs your hands as you make bracelets that tell your particular tale. 
 Each piece you create, whether it be a sparkling diamond charm bracelet or a gold filigree masterpiece with vintage influences, is a testament to your creative energy and the history of exquisite jewellery that Dhirsons Jewellers represents. A beautiful symphony is produced when your creativity and Dhirsons' superb craftsmanship come together, resonating not merely on your wrist but also in your heart. Start your adventure now, and let the world see the brilliance that results from the fusion of your artistic talent and the elegant Dhirsons history. 
What are some easy DIY bracelet ideas for beginners? 
Simple yet fashionable ideas abound for individuals who want to try their hand at making bracelets. Simple beaded stretch bracelets may be made with a few simple tools and are completely customizable by stringing vibrant beads onto elastic cord. In contrast, beginners looking for a nostalgic touch will love making braided friendship bracelets out of vibrant threads. Another approachable choice for beginners is a leather cord bracelet with adjustable knots that allows for experimentation with various bead placements. 
How can I make a personalized charm bracelet? 
Making a charm bracelet enables you to choose jewellery that tells your individual narrative. Choose a chain that complements your style to start, such as a traditional link or a delicate bangle. Collect charms with personal significance, such as initials, birthstones, keepsakes from travels, or miniature representations of pastimes. Use jump rings or clips to attach these charms, then arrange them to create a meaningful visual story. 
What materials do I need to make beaded bracelets? 
A few necessary components are required to make beaded bracelets. Start off with a variety of beads in various shapes, hues, and materials, such as glass, gemstone, or wooden beads. In addition, you'll require elastic cord or beading wire, depending on your preferred design. Closures can be safely fastened using devices like pliers, wire cutters, and crimp beads. Consider using a bead mat to keep your workstation organised and add clasps or closures that go with the design of your bracelet. 
Are there any DIY bracelet ideas using recycled materials? 
You may create bracelets out of recycled materials by embracing sustainability. Old fabric scraps can be braided into vibrant textile bracelets, and magazine or paper scraps can be turned into one-of-a-kind paper bead bracelets. Make eclectic charm bracelets out of broken or mismatched jewellery by repurposing them. Your dedication to eco-aware creativity can be displayed by cutting and embellishing bicycle inner tubes to make edgy, repurposed cuff bracelets. Collection 2019 Sale 70% Off Title for image