Must-Have Women's Jewellery Bracelet Styles for Every Occasion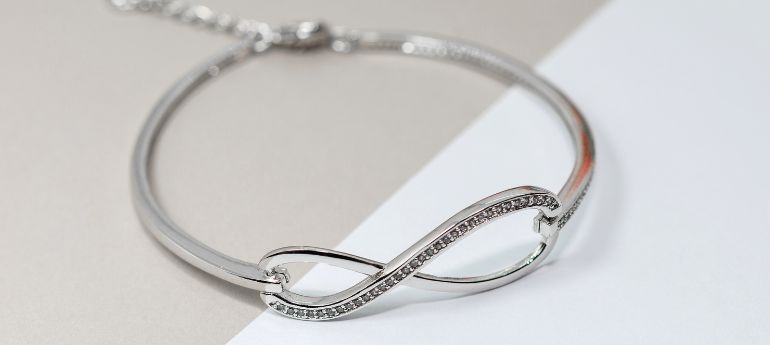 Bracelets are daily wear bangles, adaptable accessories that may add sophistication to any ensemble and improve it. We have the ideal bracelet types for you, whether you're attending a formal event, going on a casual outing, or searching for something distinctive and fashionable. Embark on a journey through the world of women's bracelets to find the classic designs that belong in your jewellery collection. The must-have gold bangles design for daily use, women's bracelet designs that are appropriate for every occasion will be discussed in this article.
Here Are Must-Have Women's Jewellery Bracelet Styles For Every Occasion 
1. Classic Tennis Bracelet:
The classic tennis bracelet is a classy and timeless option for any situation. This design emanates sophistication and beauty with its single row of diamonds or gemstones set in a delicate metal band. This gold plated bangles for daily use may easily add a bit of glitz to your everyday outfit or match perfectly with your evening gown for a formal event. It's a timeless essential.
2. Bangle Bracelets:
These daily wear gold bangles are adaptable and can be worn alone or in a stack. You may mix and combine these solid metal bracelets to suit your individual style because they are available in a variety of sizes and patterns. Bangle bracelets come in a wide range of styles, from sleek and simple to ornately detailed. These daily wear gold bangles design offer a sense of class and charm to any ensemble and are ideal for both informal and formal settings.
3. Charm Bracelets: 
Using your daily use gold bangles jewellery to tell a personal tale and express your unique personality is a great idea with charm bracelets. Numerous charms that are meaningful or represent your interests and hobbies are included in these bracelets. A simple bracelet might be the starting point, and charms can be added over time to transform it into something truly special and significant. For social occasions or as a conversation starter, charm bracelets are excellent for casual outings.
4. Cuff Bracelets: 
Cuff bracelets are a statement accessory for every occasion since they are striking and outwardly confident. The open nature of these bracelets makes it simple to slide them on your wrist and alter the fit to suit your preferences. The breadth and designs of cuff bracelets vary, ranging from simple and elegant to ornately carved.
5. Pearl Bracelets: 
Pearl bracelets have a sophisticated and elegant aura about them. They are a timeless option that may easily upgrade your look. This style brings a sense of sophistication to any event, whether you choose a single strand or multiple strands of pearl bracelet. Weddings, formal occasions, or even everyday use call for pearl bracelets. They are an adaptable choice because they go well with both conventional and modern outfits.
Bracelets are a crucial piece of jewellery for ladies and may completely change the way you look and convey a message. There is a style to fit every event and personal choice, from the traditional tennis bracelet to multipurpose bangle bracelets, charm bracelets that tell a story, bold cuff bracelets, exquisite pearl bracelets, and delicate chain bracelets. At Dhirsons Jewellers, we have a large collection of these must-have bracelet designs made from the finest gold and diamonds, so you can discover the ideal accessory to complement your sense of style and improve your appearance. Invest in any of these classic, adaptable bracelets to let your wrists shine with class at all times.
Frequently Asked Question (FAQ)
What are some suitable gold jewellery options for casual or everyday wear?
Delicate gold chains, simple gold hoops, and dainty gold bracelets are all choices that are preferred for wearing gold jewellery casually or on a daily basis.
How can I choose gold jewellery that complements my outfit for a specific occasion? 
Consider your neckline and the colour scheme of your clothing when selecting gold jewellery to combine with your dress for a particular occasion. To improve your entire appearance, choose striking accessories like a gold pendant necklace or large gold earrings.
Are there any guidelines for selecting gold jewellery based on the time of day or season?
When choosing gold jewellery, consider the time of day or the season. For daytime wear, choose lighter, more delicate pieces like gold stud earrings or thin gold bracelets. Choose more striking designs like spectacular rings or stacked necklaces made of gold for evenings or special occasions.
What are some versatile gold jewellery pieces that can transition well from day to night?
Classic gold hoops, a modern gold cuff bracelet, or a delicate gold pendant necklace are examples of versatile gold jewellery items that go nicely from day to night. You may transition from a casual daytime outfit to a beautiful evening ensemble with ease using these pieces. Collection 2019 Sale 70% Off Title for image