Trending Bracelet Styles for Women: Stay Fashionable and Chic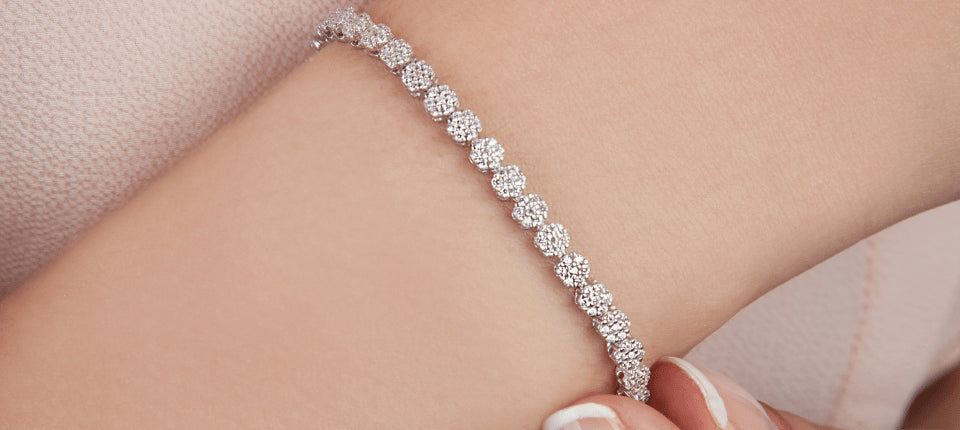 Trending Bracelet Styles for Women: Stay Fashionable and Chic
From the ancient period, gold bracelets are seen as a symbol of standard beauty, creativity, and sophistication. But looking at the changing trend from the past few years, it is not only bound to tradition and culture but has been further expanded to a world of fashion according to trends. The versatility and allure of these beautiful bracelet and stylish bracelet have made them mandatory for women of very age and class.  Gold bracelets, or new style bracelet give women countless ways to express their individual style and stay in style, ranging from delicate and dainty to strong and statement-making designs.
Gold bracelets are popular because of their ability to glam up any outfit. A gold bracelet, overall, enhances your appearance that makes you look more classy and ethnic. It will go with any outfit, no matter what you are wearing, let it be a black gown or a traditional saree, a gold bracelet will be the perfect accessory for all your needs. It easily complements every type of skin tone with an aura of luxury which overall leaves a great impression on others. Another reason for the popularity of gold bracelets is their excellent nature of adaptability and versatility. Designer bracelets for ladies by Dhirsons Jewellers come in a wide range of styles that perfectly matches your preference and style. There are many designs available that will give you and your outfit a subtle look with a glam touch.
To satisfy the need of each and every customer Dhirsons Jewellers offers a wide range of trending bracelets for ladies and new bracelet trend in different modern and antique bracelet designs and styles that can be worn at different events and occasions.  If you want to wear it on your special day, then you can pick gold bracelets with a diamond or any other precious gemstone of your choice,  If you want a gold bracelet that you can wear every day comfortably, then you can go for gold bracelets that are simple in design but is attractive. These gold bracelets are not just a symbol of luxury, but it is a symbol of the love and affection of women towards our Indian culture and tradition. The center point of any personality is the accessories that they carry. If you are the one who enjoys wearing a piece of eye-catching jewellery, then these gold bracelets are the perfect choice for you.
Gold bracelets have deep cultural and historical value in addition to being aesthetically pleasing. Gold has been connected to riches, power, and status throughout history. A gold bracelet conveys lineage and tradition in addition to adding a touch of luxury to your ensemble. It represents everlasting beauty and elegance and links you to the long tradition of jewellery craftsmanship.
Gold bracelets can also be a wise investment in addition to being a fashion statement. For many years, gold has been regarded as a precious and reliable asset, and its price has risen throughout time. Women can enjoy wearing an attractive accessory while potentially profiting from the increase in value by investing in gold jewellery such as bracelets. Women can maintain their sense of style and sophistication while making responsible financial decisions.
It is true that gold bracelets are the most demanded fashion accessory for women. These gold bracelets not only add a glam up to your look but also gives you number of opportunity to showcase your style, preference and creativity through these bracelets.
They instantly enhance any outfit, give adaptability for numerous situations that are significant historically and culturally, and even offer financial prospects. With all of these contributing elements, it's no surprise that most of you are now craving to buy these gold bracelets and are looking for an affordable and quality gold jewellery, then don't worry, Dhirsons jewellers is here for you. We will show you every type of gold bracelets as well as other gold diamond jewellery that you have wanted from forever. So, what are you waiting for? Contact us now and get branded bracelet for ladies and stylish bracelet for girls now!
Frequently Asked Questions (FAQ)
What are the current trending bracelet styles for women?
Women's bracelet trends right now include thick link bracelets and delicate chain bracelets.
How do I incorporate trending bracelet styles into my everyday outfits?
Try layering tiny bracelets or adding a statement bracelet as a focal point to incorporate current bracelet trends into your regular attire.
Are there any specific materials or metals that are popular for trendy bracelets? 
You can use gold, silver, gold, and silver embedded with diamonds or some precious stones, etc for fashionable and trendy bracelets.
Can I layer different bracelet styles together for a fashionable look? 
Yes, you can combine various bracelet styles for a trendy and unique look.
Are there any bracelet styles that are particularly popular for formal events or special occasions? 
Bracelets embedded with diamonds or other precious jewels are particularly popular for formal occasions or special occasions.
How do I choose the right size and fit for trendy bracelets?
Measure the circumference of your wrist and think about whether you want the fit to be snug or loose when selecting the proper size and style for fashionable bracelets. Collection 2019 Sale 70% Off Title for image