Top 10 Unique Pendant Designs for Women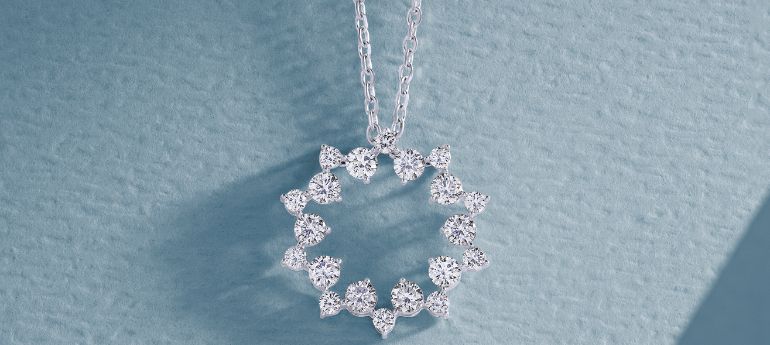 At Dhirsons Jewellers, where craftsmanship and imagination converge, dreams are converted into actual elegance. The top 10 unique pendant designs for women that we are delighted to present represent our enthusiasm for creating trendy pendant necklace or unique necklace designs that is more than just adornment and is a reflection of your personality, your experiences, and your tales. Here, at the confluence of tradition and innovation, we have developed a line that speaks to the modern woman's need for timeless beauty and cutting-edge fashion. Our journey began with a desire for designing best pendant design that expresses feelings, honours achievements, and embodies the essence of femininity. Our skilled artisans painstakingly created each pendant necklace designs or unique pendant design in our carefully picked best pendants or best locket design collection, giving each piece life with incomparable detail with the help of beautiful pendant necklace. Dhirsons Jewellers is known for its superb gold and diamond jewellery because of our consistent commitment to excellence. The process of choosing the unique pendant necklace is one that speaks volumes about your individual style and sentiments. Our beautiful pendant designs collection attempts to support this journey by providing a wide variety of styles that span from the gently elegant to the brazenly statement-making. Dhirsons Jewellers has something that speaks to your wishes, whether you're looking for a single pendant necklace or meaningful pendants 
Or different types of necklaces or beautiful locket designs each of them reflects the opulence of a bygone age or one that depicts the ethereal beauty of nature. Our beautiful pendants are a tasteful fusion of traditional elements and modern aesthetics, featuring intricate filigree work, brilliant diamonds, and enticing gemstones which turns the different types of necklace styles into unique pendants or pendant necklace. 
Every design is an untold tale, a manifestation of love, grace, or personal development. We are aware that necklace pendant design is more than just a fashion statement; it represents a memory preserved in time, a journey, and a family heritage that is passed down through the years. Dhirsons Jewellers is a tribute to a history based on dependability, creativity, and steadfast dedication to our customers. As you go through our types of necklaces or types of pendants , we cordially welcome you to immerse yourself in the world of minute details, brilliant stones, and unsurpassed craftsmanship. Our goal is to deliver to you a work of art that captures your soul and enhances your elegance, not just a piece of jewellery. 
Our Rose Gold Chain with 2 Lock pendants are a stunning blend of elegance and symbolism that exude an aura of refinement. The rose gold chain, which was precisely crafted, represents grace, and the two locks imply commitment and oneness. This item tells a story of enduring relationships in addition to accessorising your outfit. 
Enjoy the beauty of Italian craftsmanship with our gold chain that is embellished with deft blue enamel work. Gold Italian Chain with Blue Enamel Work. This intercultural blend is vibrant and artistic. It is a conversation starter and a wearable work of art thanks to the gold chain's reflection of wealth and the azure enameling's addition of a touch of ethereal charm. 
Our Chain with Circle Pendant, which has a stunning black centre, combines minimalism with modern flair. The circular shape of the pendant represents harmony and limitless potential. This piece draws attention with its modest elegance and striking contrast when it is set against a delicate chain. 
Gold Chain with Eye Lock Ball, Lock, and Key Pendant: 
With this gold chain that includes an eye lock ball and a lock and key pendant, reveal your personal sense of style. The eye lock ball adds a dash of mystery, while the lock and key represent strength and mystique. This outfit epitomises your diverse persona and makes a strong statement about the various aspects of who you are. 
Our gold ball chain with a charming dog motif is the perfect way to honour the special relationship that exists between people and their four-legged friends. The pendant's delicate craftsmanship beautifully reflects the spirit of friendship and loyalty, making it a sentimental accessory for dog lovers who want to wear their love with pride. 
Make a statement with our Lock Pendant Embedded with Small American Diamonds. The glittering diamonds increase the lock's meaning of security and protection, giving the item a glamorous and empowering feel. Wear it to serve as a reminder of your tenacity and resiliency. 
Adorned in American Diamond: Bask in the radiance of our Adorned Pendant, which has American Diamonds in an exquisite pattern. The pendant's delicate motifs catch light to produce a captivating shine that reflects your radiant character. With this piece, any event becomes a memorable one. 
Elevate passion and elegance with this heart-shaped pendant set with American diamonds. The sparkling stones, which stand for love and dedication, provide a beautiful finishing touch to the classic heart shape. This accessory becomes a reflection of your feelings, adding a brilliant sparkle to any ensemble. 
Our Italian Chain with 2 Big Circles showcases contemporary elegance. The design's interlocking rings, which stand for unity and enduring ties, convey volumes. The pendant's design gives a touch of modern refinement, while the Italian craftsmanship guarantees excellence. 
Immerse yourself in the appeal of Italian aesthetics with this Italian Chain featuring a Circle Pendant. The circular pattern on the pendant stands for harmony and infinity. This piece, which was created with grace and perfection, becomes a reflection of your sophisticated taste and love of the arts. 
Dhirsons Jewellers is a model of excellence in the field of jewellery, where aesthetics and feelings are intimately entwined. We are passionate about creating timeless beauty that speaks to your uniqueness, and this passion is reflected in our range of gold jewellery pendant design for women. Each gold pendant unique design you discover as you peruse our works of art tells a tale, captures a feeling, and becomes a part of your individual story. Jewellery adornment is a journey rather than a simple act of wearing. Embracing a piece that captures your uniqueness, matches your style, and has a special place in your heart is important. Given the importance of this journey, Dhirsons Jewellers works to provide a variety of styles that may be adapted to suit various tastes and events. Our collection is a reflection of life's various emotions, ranging from the opulence of imperial pendants to the delicate charm of nature-inspired items. Every best pendant designs in gold is meticulously crafted by our artists, who devote their knowledge, passion, and love to each piece. What distinguishes Dhirsons Jewellers as a brand you can trust is its dedication to flawless craftsmanship and unwavering quality. You are embracing a work of art that transcends fashion and time when you select a pendant from our collection; you are not just buying jewellery. 
What are unique pendant designs for women? 
Find a mesmerising collection of unusual pendant designs for women that go above and beyond. Our collection includes pendants that exemplify uniqueness and elegance, ensuring you stand out with each decoration, from nature-inspired themes to abstract artwork. 
How do I choose the right unique pendant design? 
Your unique preferences and style will be reflected in the ideal pendant design you select. The symbolism of the design, your clothing, and the occasions you'll wear it are all important considerations. Our wide selection has something to suit every taste, whether you prefer subtle sophistication or strong assertions. 
Are these pendants suitable for all occasions? 
Our distinctive pendant designs are carefully created to suit a variety of events. You can select pendants that perfectly match your outfit for both casual outings and formal occasions. With these adaptable items, you can go from day to night with ease and be perfectly attired for any occasion. 
Are there personalized options among these unique designs? 
With personalised alternatives that include a meaningful touch, up your pendant game. You can add initials, birthstones, or significant dates to a number of our distinctive designs to make a pendant that has special meaning for you and will be treasured forever. 
Are these pendants available in different price ranges? 
There is something for every budget due to the variety of price points offered for our distinctive pendant designs. Whether you're looking for a priceless investment piece or a considerate gift, our selection has choices that satisfy your needs for both quality and pricing. 
Do these designs follow any particular trends or themes? 
Our pendant designs are influenced by a wide range of fashions and ideas. You can get pendants that follow current fashion trends while yet having a timeless charm, from modern simplicity to vintage elegance. Discover a world of design trends that suit your personal taste. Collection 2019 Sale 70% Off Title for image