Top 10 Must-Have Earring Styles for Every Jewelry Collection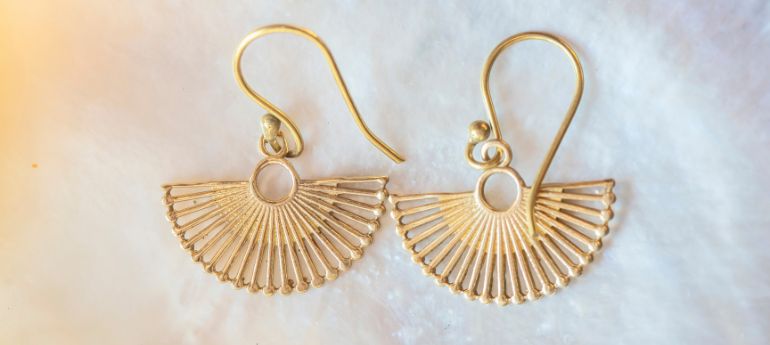 Professional earrings becomes an embodiment of artistic prowess and polished style in this domain. At Dhirsons Jewellers, gold and diamonds daily earrings designs blend to form an everlasting chorus of beauty in form of best earrings for women. The everyday wear earrings we offer embody our commitment to excellence, redefining luxury and serving as a blank canvas for your unique expression. Our conviction is that jewelry holds more than a superficial value; it mirrors the inner self, concealing a tale eager to be revealed. As you explore this captivating selection of best designer stud earrings and most beautiful earrings, uncover the essence of feelings, memories, and life's most treasured moments, each earring a beautifully crafted work of art with earrings best design. For enthusiasts of either timeless classics or modern design, our best earring design collection has been lovingly assembled to match your tastes and dreams. Where our top ear ring design collection is concerned, quality and authenticity form the very core of our commitment. With each unique earring designs we make, our love for design and attention to material quality are evident. Our range of daily wear earrings or stylish earring for girl offers more than just earrings; each one is a representation of your personal journey, goals, and unparalleled sense of style. With Dhirsons Jewellers, your jewelry investment comes with an untold narrative and a chance to create new memories.  
Stud earrings- A touch of sophistication may be added to any outfit with stud earrings, which are the picture of subtle elegance. These classic designs have one diamond or gemstone that is elegantly tucked in close to the earlobe. Since they have a simple, versatile design, they are ideal for both professional and informal settings. Whether they include a magnificent diamond or a coloured gemstone, stud earrings subtly accentuate your inherent beauty and provide a delicate shine that matches your personal style. 
Hoop Earrings: Hoop earrings are well known for their adaptability and classic appeal. These amazing circles come in a variety of shapes and styles, from delicate and understated to strong and lavishly embellished. Adding a splash of glitz to every outfit, hoops easily transcend from day to night. They may capture attention and frame the face, making them a must-have addition in any jewellery collection, whether you choose elegant polished gold or spectacular diamond-studded hoops. 
Drop Earrings: Drop earrings are made to draw attention with their beautiful movement. These earrings have a stone or diamond at the earlobe that is connected to a lengthier piece that hangs elegantly below. As you move, an eye-catching effect is produced by the light's reflection off the dangling diamond. Drop earrings are a great choice for people looking for a sophisticated yet dynamic style since they strike the perfect mix between elegance and movement. 
Chandelier Earrings: Chandelier earrings radiate luxury and drama, frequently boasting complex patterns that cascade with gems, diamonds, or pearls. These earrings make a statement appropriate for big occasions, drawing inspiration from the grandeur of chandeliers. The intricate workmanship and the interaction of many pieces produce a mesmerising effect that catches the light and enthrals observers. A focal point of every outfit, chandelier earrings are a sign of grandeur and luxury. 
Dangle Earrings 
Dangle earrings give your outfit movement and charm by combining elegance with a whimsical sway. These earrings have pearls, diamonds, or jewels hung from a hook or post. Dangle earrings are the ideal choice for expressing your personality through jewellery because of the compelling visual impression that the different lengths and configurations produce.  
Jhumka Earrings: Jhumka earrings honour cultural tradition and traditional design. These earrings have a bell-shaped form with delicate craftsmanship and are frequently embellished with gems, enamel, or filigree designs. Jhumkas have a classic charm that gives your outfit a retro feel. They celebrate artistry and craftsmanship while capturing the essence of global diversity and classic beauty. 
The 18Kt Gold Jhumki 6796 is an alluring option for anyone looking for a harmonious balance between history and modern flair. These jhumki earrings combine intricate designs with gemstone brilliance to capture the spirit of tradition while giving it a contemporary twist. The jhumkis hang delicately and sway with each step, bringing a sense of movement and charm.  
18Kt Tops with Gold 2199: The simple elegance of the 18Kt Tops with Gold 2199 will elevate your everyday look. With a timeless style that complements every outfit, these earrings easily move from day to night. These tops give versatility to your wardrobe thanks to the bright 18Kt gold's understated refinement. 
With our 18Kt Gold Chandbaali 7040, you may experience the height of refinement. With their elaborate design and flawless harmony between diamonds and gold, these earrings embody luxury. This design gives the chandbaali shape, which is associated with grace and grandeur, a contemporary twist, resulting in a standout piece that emanates beauty and charm. 
The 18Kt Gold Chandbaali 6545 is a stunning design that combines luxury and grace. These chandbaali earrings include beautiful filigree work and sparkling gemstone embellishments. These items are a flexible addition to your collection because they deftly combine modern aesthetics with age-old themes. These chandbaalis are sure to draw attention whether they are paired with vintage or contemporary outfits. 
Leading provider of fine jewels, Dhirsons Jewellers invites you to embark on a journey that goes beyond plain decoration. As you go through our carefully curated collection of everyday gold earrings or earrings daily wear design collection, you'll see that every single one is a work of art, a testament to the seamless union of artistry and craftsmanship. Our gold earrings for regular use have been meticulously made to not only go with your attire but also convey a tale that speaks to your soul. A variety of materials, such as the best earrings design of diamonds and the best earring designs gold, are available for them. Jewellery is more than just an accessory to you; it's a reflection of who you are, as we at Dhirsons Jewellers are well aware. You are picking more than just jewellery as you peruse our wide selection of diamond and gold earrings unique design; you are choosing ways to represent who you are. Each pair of earrings captures a different aspect of your personality, whether you find comfort in the timeless allure of studs, embrace the daring allure of ear cuffs, or fall in love with the romance of floral-inspired designs. The delicate features and immaculate polish of each piece demonstrate our unrelenting devotion to quality. We take pleasure in the craftsmanship of our craftspeople, who put their all into each piece, and the carefully sourced materials we use. You are buying more than simply an accessory when you purchase earrings from Dhirsons Jewellers; you are buying a work of art that embodies elegance, passion, and skill.
 
Our company, Dhirsons Jewellers, gladly invites you to join us on an amazing journey. Let our earrings become a part of your story, whether it's a memorable occasion, a daily act of expression, or an impending priceless memory. Your life has more meaning and value thanks to our selection than just brightness. Learn about the attraction of jewellery that speaks to your heart and soul as you add more earrings to your collection with Dhirsons Jewellers. Find out more about the stories waiting to be told, the memories waiting to be enhanced, and the elegance waiting to be enjoyed. 
What are the must-have earring styles for a well-rounded jewelry collection? 
A complete jewellery wardrobe should include classic stud earrings for ever-evolving elegance, hoop earrings for their effortless charm, drop earrings for graceful movement, chandelier earrings for special occasions, dangle earrings for a playful touch, and jhumka earrings for a nod to cultural heritage and vintage appeal. 
How can I select earring styles that suit my personal taste and style? 
If your entire look is classic, modern, boho, or eclectic, that can help you decide which earring styles suit your own taste. Choose styles that complement your clothing and reflect your personal preferences. Try out many looks to find the one that best suits your personality and gives you a sense of self-assurance. 
Can you give examples of materials used in these must-have earring styles? 
Various materials, including precious metals like gold, silver, and platinum, can be used to create must-have earring designs. These pieces are given personality by embellishments including enamel work, gems, diamonds, and pearls. The choice of materials enables customisation to match your aesthetic and financial constraints. 
Are there earring styles that follow current fashion trends? 
Yes, earring designs frequently reflect prevailing fashion trends. For instance, recent trends include choosing enormous hoop earrings and mismatched studs. In style right now are geometric patterns, vivid hues, and designs with natural elements. You may add fashionable earring styles into your collection by keeping up with fashion periodicals and runway trends. Collection 2019 Sale 70% Off Title for image