The Most Iconic Diamond Ring Designs of All Time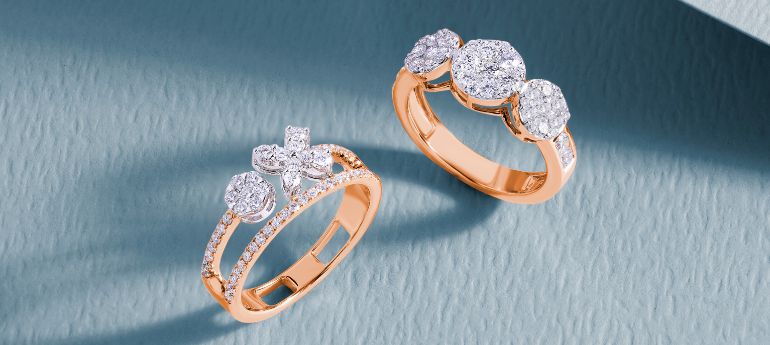 Few objects have the capacity to grab the human heart as effectively as diamonds do in the realm of luxury and extravagance. For generations, these classic diamond ring have represented sophistication and style at their finest. These gorgeous works of art become timeless pieces when they are blended with the creativity of jewellery design. When it comes to selecting the most exquisite diamond engagement rings styles, Dhirsons Jewellers, a name associated with opulence and workmanship, has taken the lead for engagement rings for women. In this article of unique engagement rings of grandeur and creativity, we look at some of the best diamond engagement rings designs ever made, each of which blatantly carries the mark of Dhirsons' remarkable taste and talent.
The beauty of this ring transcends fashion, encapsulating both sophistication and enduring love. A delicate 14Kt gold band that highlights the stone's brilliance holds a painstakingly hand-selected, brilliant-cut diamond securely in place. All eyes will be drawn to the diamond's captivating shine thanks to the solitaire setting, which elevates the stone to the status of a symbol of chastity and enduring devotion. A tribute to the skill and artistry that characterize Dhirsons Jewellers, the 14Kt Diamond Solitaire 7922 conveys a compelling tale of love and devotion with every gaze.
The brand's everlasting dedication to producing items of unrivalled beauty and quality is demonstrated by this stunning solitaire diamond ring. The 14Kt white gold ring makes the ideal backdrop for showcasing the meticulously picked diamond's brilliant brilliance. The Diamond Solitaire 1763 encapsulates the idea of everlasting love and grace with a timeless design that defies trends, making it a prized symbol of life's most precious moments. Enhance your jewellery collection with this extraordinary work of art, available only at Dhirsons Jewellers, that shines with every gaze.
This magnificent solitaire ring is a true testament to everlasting love and elegant luxury. It was created with great attention to detail and an unrelenting dedication to excellence. A stunning, hand-selected diamond that radiates fire and brilliance from every angle serves as the focal point of this masterpiece. The elegant diamond is the centre of attention thanks to the simple design and gleaming 14Kt gold band. The 14Kt Diamond Solitaire 6799 is a classic piece of jewellery that catches the heart and leaves an enduring imprint of elegance, whether it is worn as a confession of love or to commemorate life's milestones. Enhance your experiences with the unparalleled elegance of this exceptional solitaire ring, available only at Dhirsons Jewellers.
This stunning solitaire ring perfectly depicts the idea of everlasting love and sophistication since it was made with extreme care, accuracy, and dedication to excellence. A single, brilliant 14Kt diamond occupies the focal point and is encircled by a sophisticated band of 14Kt gold that highlights its brilliance. The diamond's natural beauty may shine brilliantly thanks to the timeless design, which elevates it to the status of a symbol of enduring devotion and taste. Enhance your most treasured memories with the subtle richness of the 14Kt Diamond Solitaire 3182, a genuine
masterpiece that exemplifies Dhirsons Jewellers' commitment to creating jewellery that endures fashion.
This magnificent solitaire ring, which has been expertly crafted, captures the undeniable essence of enduring love and unparalleled beauty. The hand-selected, sparkling diamond that sits at the centre of this masterpiece is brilliant on every angle. The diamond's stunning appeal is enhanced when it is set in a gleaming 14Kt gold band, giving it an alluring representation of unwavering dedication. The 14Kt Diamond Solitaire 5898 is more than just a ring; it's a symbol of Dhirsons Jewellers' unwavering commitment to creating jewellery that captivates people's hearts and endures throughout time. The appeal of this solitaire diamond ring will elevate your special occasions; it is a symbol of the unmatched creativity and sophistication that characterise Dhirsons Jewellers.
This stunning ring was expertly created with precision and passion, and it showcases a striking solitaire diamond that was carefully chosen for its superb cut, clarity, and brilliance. This solitary gem, which is set in a gleaming 14Kt gold band, epitomises the purity and brilliance that only a single, magnificent diamond can deliver. The 14Kt Diamond Solitaire 133 is a monument to Dhirsons Jewellers' unwavering dedication to producing jewellery that spans generations and honours life's most treasured moments. It is a symbol of enduring love and sophistication. Enhance your elegance with this classic style, and let a solitary diamond's ageless beauty tell your individual tale.
One thing becomes clearly evident as we take a tour of the most famous engagement rings near me: Dhirsons Jewellers is a brand that is synonymous with top-notch design, ageless beauty, and unmatched artistry for diamond engagement rings for women. Each design, whether it is a modern minimalist design or a traditional solitaire, embodies the brand's unwavering dedication to producing cherished heirloom-quality jewellery. These eternal diamond rings for women are more than just pieces of jewellery; they serve as a reminder of the timeless attraction of diamonds and a testament to the creative power of people. Dhirsons Jewellers' masterpieces stand as a light of enduring elegance and beauty in a world where trends come and go. So, what are you waiting for? DM us now!
Frequently Asked Question (FAQ)
How do I identify an authentic iconic diamond ring design?
The design of an actual famous diamond ring exudes a harmonious fusion of excellent craftsmanship, flawless diamond quality, and a distinctive aesthetic that suits your personal taste.
Are there any iconic diamond ring designs that are affordable for the average buyer? 
Yes, the renowned diamond ring designs offered by Dhirsons Jewellers mix affordability with classic elegance to allow even the typical buyer to live luxuriously without sacrificing anything.
Can you recommend iconic diamond ring designs for engagement purposes?
Consider the traditional diamond for timeless romance or the halo design for extra brightness when planning an engagement; both represent enduring love and dedication in legendary beauty.
What are the most iconic diamond ring designs of all time? 
The traditional solitaire, the elaborate Art Deco designs, the alluring three-stone settings, and the nature-inspired creations are among the most famous diamond ring types of all time. Each of these styles has a distinct legacy of beauty and significance. Collection 2019 Sale 70% Off Title for image