Must-Have Bridal Jewelry Pieces for a Dazzling Delhi Wedding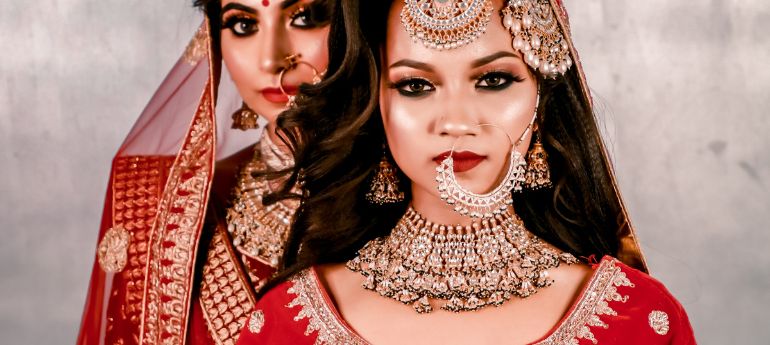 The days leading up to your wedding are thrilling and joyful. Every little detail counts, from selecting the ideal gown to the most exquisite bridal jewels. A bride's heart belongs to her bridal jewellery since it completes her appearance and gives her outfit a hint of elegance and shine. When it comes to planning a wedding, selecting the perfect wedding jewellery is a significant part of the bride's preparations. Finding the proper bridal jewellery, on the other hand, can be a difficult endeavour, especially if you are on a budget. We'll look at affordable bridal jewellery options in Delhi in this article.
Bridal jewellery sets are available in an array of styles and designs to suit a wide range of tastes and preferences. Gold jewellery sets are a popular choice for traditional brides because of their classic beauty and charm. Typically, these sets come with a mang tikka, bangles, earrings, and a necklace. However, modern brides could favour platinum or diamond jewellery sets because they provide a chic appearance. Typically, these sets include a bracelet, earrings, and a delicate necklace that matches. Bridal jewellery sets come in a variety of styles to complement your bridal gown and make you feel like a princess on your big day.
Factors for deciding the bridal jewellery:
 1. Bridal Dress: 
 The type of jewellery that will go well with your bridal outfit depends largely on its style, colour, and design. Jewellery made of gold and Kundan, for example, would blend well with a classic red lehenga. Diamond or silver jewellery could look better with a white wedding gown. Make sure the colour, design, and details of your clothing are complemented by the jewellery you choose. When selecting a jewellery set for wedding, it's crucial to ensure that it harmoniously complements the bride's attire and adds a touch of elegance to her overall look.
 Earrings are an important component of bridal jewellery since they frame your face. Focus on your facial shape and haircut when selecting jewellery. Long, exquisite earrings might give a touch of refinement if your hair is up. Long, hanging earrings can provide the appearance of a more elongated facial shape for people with round faces.
3. Budget: 
 Setting a budget for your bridal jewellery is essential. Wedding expenses can be high, and wedding jewellery prices might differ greatly. Being aware of your budget in advance will help you make better decisions and avoid going beyond. You may get gorgeous jewellery without going over budget thanks to the many affordable options accessible.
4. Personal Style: 
Your wedding jewellery ought to be a reflection of your personality. While some brides are drawn to more modern and fashionable designs, others prefer classic and timeless items. Select jewellery that suits your style and gives you a sense of security and comfort.
5. Matching Sets: 
You can save time and guarantee a cohesive look by choosing a matching bridal jewellery set. Necklaces, earrings, and occasionally bracelets or bangles are included in sets. Sets aren't necessary, though; combining and matching individual pieces can produce a distinctive and customized design.
Must-Have Bridal Jewellery Pieces:
 A bold necklace or a delicate pendant necklace accentuates the neckline and adds elegance. Select earrings that accentuate your features and go well with the necklace. Whichever style of earrings you choose—studs, hoops, or chandeliers—make sure they complement your entire appearance. Traditional bridal jewellery is incomplete without bangles. Choose diamond or gold bangles to accessorize your wrists with a little glitter and to go with your ensemble. A traditional headdress that gives the bridal ensemble a royal feel is the mang tikka. Pick one that accentuates the shape of your face and your haircut. Selecting the perfect bridal jewellery set for wedding is a crucial decision that can significantly enhance the bride's overall look and add a touch of elegance to the ceremony.
Delhi offers an abundance of reasonably priced selections for bridal jewellery. Whether you're looking for a complete bridal jewellery set, exquisite wedding earrings gold, or traditional bangles for wedding, Delhi has it all. Dhirsons Jewellers Lajpat Nagar offers a diverse range of jewellery designs at reasonable prices. It's amazing to see the exquisite craftsmanship and overall elegance of these jewellery pieces. You can mismatch the jewellery pieces to get your personalized jewellery set for wedding You can find the ideal bridal jewellery to complement your wedding day outfit without going over budget if you do a little research, bargain-wise, and have a set spending limit. Your wedding day is a once-in-a-lifetime opportunity, and with the appropriate jewellery, you may truly shine as the bride you've always wanted to be.
Frequently Asked Question (FAQ)
Where can I find budget-friendly bridal jewellery in Delhi? 
There are several locations in Delhi where you may purchase bridal jewellery at reasonable costs, with a wide range of choices for style, metal, etc. Dhirsons Jewellers in Lajpat Nagar is the ideal location because of their amazing designs and fine craftsmanship, which draw attention to it. Their exquisite and sophisticated jewellery designs are breathtaking.
What are some cost-effective metals and materials for bridal jewellery? 
One clever strategy to keep your wedding jewellery costs down without sacrificing style is to go with affordable metals and materials. Stainless steel, cubic zirconia, silver, and jewellery plated in gold are a few reasonably priced possibilities. These materials enable brides to choose the ideal pieces without going over budget because they are elegant and reasonably priced.
Can I rent bridal jewellery in Delhi, and is it a budget-friendly option? 
Yes, a variety of jewellery rental businesses and retailers in Delhi offer bridal jewellery for hire. Renting bridal jewellery can be a cost-effective choice because it enables you to wear beautiful, well-made pieces for your wedding without having to pay a hefty price for them outright. This is especially useful if you want to wear elaborate, traditional jewellery that you may not wear again after the wedding. Renting is a useful and affordable option so you can look gorgeous on your wedding day without going overboard with the jewellery you might not use.
What are the latest trends in budget-friendly bridal jewellery in Delhi? 
Delhi's bridal jewellery market is evolving to meet the needs of cost-conscious brides by providing a wide range of fashionable and reasonably priced options that elevate the bridal look while keeping costs in check. Some of the major trends in cost-effective bridal jewellery for Delhi include the use of imitation and gold-plated jewellery, the incorporation of coloured gemstones and semi-precious stones for a pop of colour, lightweight and versatile designs for comfort, and a focus on customizable jewellery sets. Collection 2019 Sale 70% Off Title for image