Gold Earrings for Every Occasion: From Casual to Formal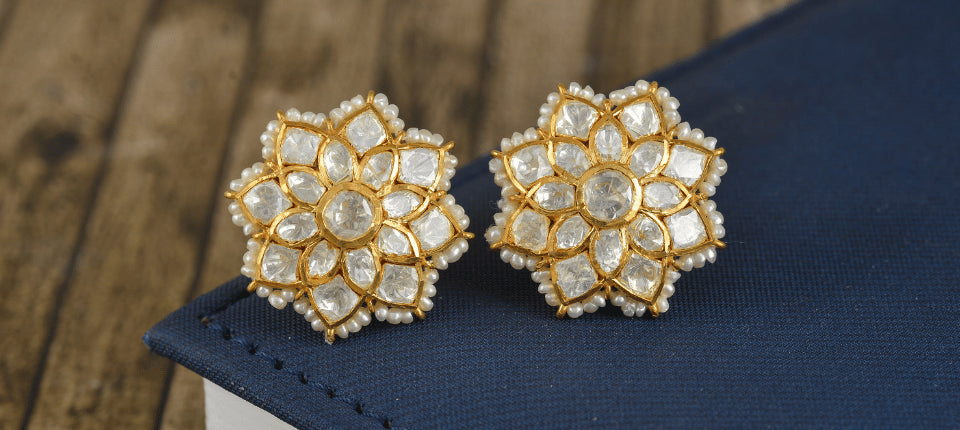 Gold earrings are a classic and versatile piece of jewellery that can dress up any look for formal as well as informal occasions. There is the ideal pair of gold earrings for every occasion, whether you're going out for coffee with friends or dressing up for a fancy event. Choose beautiful gold earrings that can go with any outfit. These gold earrings will give you a look full of beauty and sophistication that will turn many heads around. These gold earrings are usually marked as a symbol of our culture and tradition that we are following since ancient times which makes it easy to use every day.  They are an integral part of any jewellery set because this is what improves your overall look.
If you are a businesswoman or a woman who loves to work but also wants to be connected with her tradition then casual earrings gold, like  Gold hoop earrings are the best choice for formal earrings for office.  This is where style and professionalism meet. Gold hoops, casual gold earrings designs, will add a touch of newness to your outfit and will leave a long-lasting impression on others.
If you're planning to go on a date with your partner and are worried about which earrings to wear, then Drop or chandelier earrings are the perfect choice for your date night. These earrings will complement your outfit very well, leaving a long-lasting impression on your partner. These earrings are designed in a unique way that can easily catch the attention of your partner. Wear a black dress or a formal gown with it to create a gorgeous look. These earrings are not just an accessory for your outfit but it will reflect your personality, so it is important to choose the best gold earrings for yourself.
If you're going to a formal occasion like an event or wedding. And wants to be dressed like a queen on your special day, then Gold chandelier earrings are the best choice for gold earrings for function. The ornamentation and detailing done on these earrings will complete your outfit in an outstanding way. They are the perfect pair for formal attire as they radiate beauty and elegance. Keep the rest of your accessories to a minimum so that your gold chandelier earrings can stand out as the centrepiece of your outfit. 
There are many options available at Dhirsons jewellers, as we ensure that our customers get a quality gold earrings that will make their event more special and memorable. So, what are you waiting for? Get your favorite gold earrings from Dhirsons Jewellers now!
Frequently Asked Questions (FAQ)
What are some versatile gold earring styles that can be worn for both casual and formal occasions?
There are a variety of gold earrings that can be worn on different occasions like small and delicate studs, hoops, chandelier or drop earrings and other forms of multipurpose gold earrings.
How do I choose the right size and shape of gold earrings for different occasions? 
Consider wearing smaller, simpler designs for more casual settings and larger, more elaborate ones for more formal ones when selecting the appropriate size and shape of gold earrings for various occasions.
Can I wear hoop earrings for formal events, or are they more suitable for casual wear? 
Depending on their size and design, hoops earrings can be worn for professional and informal settings. While larger hoops can make a bolder impression in either environment, smaller hoops can be worn for a more refined appearance.
Are there any specific gold earring designs that are considered more appropriate for formal settings? 
For formal wear, you must choose earrings that are connected to our tradition and culture such as chandelier earrings or earrings with cascading chains etc. 
Can I wear statement gold earrings for casual outings, or are they better suited for special occasions? 
Statement gold earrings allow you to show your individual style and provide a beautiful touch to any outfit, making them suitable for both special occasions and everyday wear. Collection 2019 Sale 70% Off Title for image