Diamond Engagement Rings: Symbolism and Styles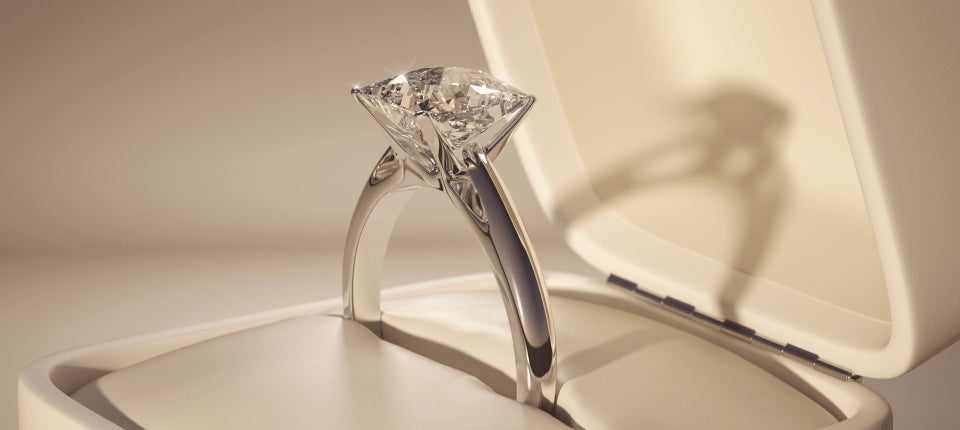 Well, first of all congratulations to you that you've found your soulmate in someone who will be there for you every time and will support you on every moment.  Now that, you've found your soulmate it is your duty to gift him/her the best engagement ring so that he/she adores it, her whole life and engagement rings for couples are the best option for it. Unique engagement rings are seen as a symbol of style and inevitability. It can easily attract anyone with its shine. A diamond engagement ring shows a lifetime commitment, affection, loyalty, and the hope of a better future together. It is a reminder of love, for you in your bad times that keeps you moving together. It is a symbol of dedication and memories that you have build together in your journey.
Each and every engagement ring whether diamond or gold is unique in its design and style and here at Dhirsons jewellers, we are providing you with a variety of styles that are not only beautiful but are affordable too. One can easily pick up a ring of his own choice which matches up to his preference. And solitaire diamond ring is one of the choices available. In this type of ring, usually a single diamond is placed in its centre and is often more liked by the persons who love to wear jewelleries with a sense of refinement and sophistication.
On the other hand, antique diamond engagement rings hits nostalgia. It gives a strong connection with past that keeps you connected with your tradition and culture and is best for the ones who are looking for a vintage inspired design.  These rings includes elaborate designings that are often related to the tradition or the memories that we have in our past with a touch of creativity and beauty. For individuals who value a special and sentimental touch, antique rings are the perfect choice because they not only have a timeless appeal but also a sense of history and romanticism.
When purchasing a diamond engagement ring, it is important to look at the quality of the diamond and to know whether you are buying a quality diamond or not. To avoid any confusions, we have 4C's to look on : Cut, Colour, Clarity and Carat. These are the 4 thing you must check while buying a diamond engagement ring. You should buy jewellery from a reputable seller only like Dhirsons jewellers. We know how expensive and full of emotions it is to buy a gold diamond ring for your loved ones and that's why we assure you to give the quality jewellery that will full your life with love and memories.
Frequently Asked Questions (FAQ)
Why diamond engagement are rings a popular choice for proposals?
Diamond engagement rings are a popular choice for proposals due to its durability and rarity.  It symbolize your love to be everlasting and forever. Also, its shining captures the eye that makes it more attention grabbing.  
How do I choose the right diamond shape for an engagement ring? 
It is mostly dependent on the size and style, you are looking for. As diamond rings can be big as well as small depending on what you choose.
What are the different styles of diamond engagement rings available?
There are different styles that are preferred by people of different tastes and personalities. Solitaire rings, halo rings, three stone rings, vintage inspired, non-traditional are some of the top style choices.  
Are there specific settings that enhance the beauty and brilliance of a diamond engagement ring?
The shine and spark of a diamond engagement ring is basically dependent on its setting. Prong settings that allows more light to enter that increases its shine, Bezel settings has tiny diamonds, tension settings that shows diamond floating are some of the settings type which enhances the beauty of your ring. Collection 2019 Sale 70% Off Title for image