Choosing the Right Gold Jewellery for Different Occasions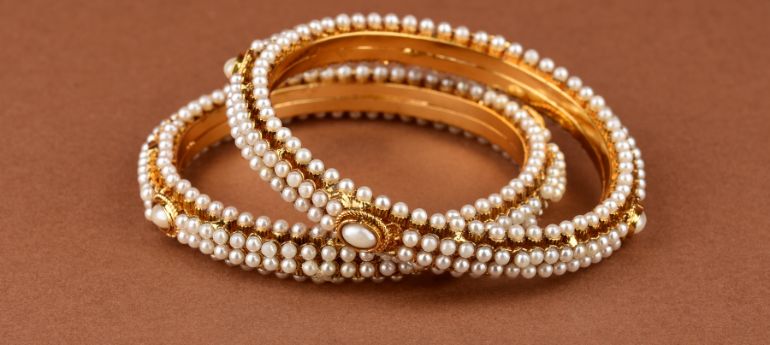 Gold jewellery has been often represented as a symbol of beauty, elegance, prosperity, and royalty. With the help of the right gold jewellery for different events and occasions, one can easily create a sophisticated and glamorous look. In this article, we will tell you about how to choose right jewellery for different occasions and what exactly are different types of gold jewellery which ultimately matches to different occasions and events.
Here Are Top Gold Jewellery Best For Different Occasions
1. Weddings and engagements :
Weddings and engagements are lavish festivities that need simple gold jewellery. Choose bold pieces that leave a lasting impression. A gorgeous bridal ensemble can be made with a traditional gold necklace, matched earrings, and a magnificent gold bracelet in other words, it is made of all gold jewellery. Solitaire diamond rings with a gold band are a common option for engagements. Consider your outfit's neckline when picking a necklace type, whether it's a choker, princess-length necklace, or a long necklace for a deep neckline.
2. Formal Events: 
Elegant and sophisticated gold jewellery is required for formal events including galas, award ceremonies, and black-tie parties. Your outfit might gain some glitz by adding a classic gold pendant necklace or a delicate gold chain with a diamond pendant. For a luxury and elegant appearance, use gold earrings with elaborate designs or studded with priceless diamonds. Always choose jewellery that complements the style and colour scheme of the entire ensemble.
3. Parties & Celebrations:
What matters the most for different parties and celebrations, is your appearance which is created by wearing an attractive outfit and wearing different types of jewellery by accessorizing it.  To add flair to your attire, you should try large gold bracelets or gold bangles stacks.  Another fashionable trend that enables you to customize your look is layering delicate gold necklaces of various lengths.
4. Casual events: 
Whether it's a weekend getaway or breakfast with pals, casual events call for more laid-back and adaptable gold jewellery selections. Choose delicate gold jewellery to add to your everyday look. Your casual clothes can be made more elegant with a simple gold pendant necklace or a delicate gold chain bracelet. For a modern and stylish style, think about using stackable gold rings or midi rings. To develop a distinctive and personalised look, mix and match various gold jewellery items.
5. Workplace and Professional Settings: 
Professionalism with glamour is something that is trending nowadays. It's important to know the art of mixing beauty and glamour in your professional life and that glamour could be done by accessorizing different types of jewellery with your outfit. Small gold stud earrings or gold hoops can add some colour to your outfit without being too dominating. Choose a subtle gold pendant necklace or a straightforward gold bracelet that won't detract from your professional image. Avoid displaying ostentatious or loud jewellery that can annoy your clients or coworkers.
6. Festive and Cultural events: 
Festive and Cultural Events: India is a land of culture, festivals, and events, where festivals are related to jewellery that is usually related to our tradition and culture. For instance, Indian ladies frequently wear gold jewellery with lehenga, gold necklace for saree and dress themselves with gold necklaces, earrings, and bracelets during Diwali or other festivals. Intricate gold jewellery is a Chinese New Year sign of luck and wealth. Wearing gold jewellery that embodies the beauty and significance of your culture will help you embrace its traditions.
7. Personal Style and Preference:
Ultimately, the best gold jewellery for any event will depend on your individual style and tastes. It's crucial to take the occasion and your clothing into consideration, but it's just as important to choose items that suit your personal style. Find the gold jewellery that makes you feel confident and beautiful by experimenting with different designs, finishes, and materials.
It's important to carefully examine the event, your attire, and your unique style while selecting the ideal gold jewellery for various occasions. Every occasion can be accommodated by a variety of gold jewellery options, from weddings and formal ceremonies to social gatherings and cultural festivities. Gold jewellery may enhance your appearance and make a statement, whether you favour timeless classic designs or modern, fashionable trends. Celebrate the adaptability and beauty of gold by letting your jewellery choices reflect it on every occasion. Knowing this much about gold jewellery, you must be looking for a reputable gold jeweller in India, then we are happy to inform you that Dhirsons Jewellers is here to serve you. We will not only give you a personalised support but will also deliver quality products. So, what are you waiting for? Contact us now!
Frequently Asked Question (FAQ)
What are some suitable gold jewellery options for casual or everyday wear? 
Gold hoop earrings, delicate chain bracelets, and small pendant necklaces are all appropriate choices for casual or everyday wear. Without being overtly dazzling, these pieces provide a sense of refinement.
How can I choose gold jewellery that complements my outfit for a specific occasion? 
Think about the neckline and colour of your clothing when selecting gold jewellery to pair with it for a particular occasion. A strapless gown can be enhanced with bold earrings or a cuff bracelet, while a V-neck dress can be accessorised with a pendant necklace.
Are there any guidelines for selecting gold jewellery based on the time of day or season? 
While there are no hard and fast guidelines, you can choose bolder, more ornate gold jewellery for evenings and cooler seasons, and explore lighter, simpler gold jewellery for daytime and warmer seasons. This could aid in striking a balance between your jewels and the general appearance.
What are some versatile gold jewellery pieces that can transition well from day to night? 
Stackable rings, layered necklaces, and convertible earrings are just a few examples of versatile gold jewellery pieces that can move from day to night with ease. With these, you can change the look and the way the pieces are arranged to fit both formal and casual settings. Collection 2019 Sale 70% Off Title for image