Chic Fashion Jewellery Gift Ideas Under 50k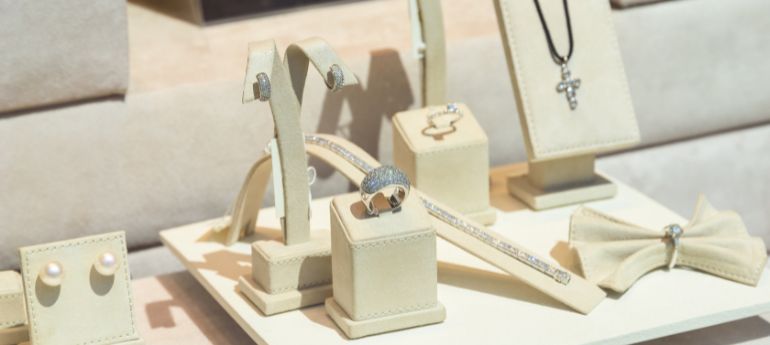 Jewellery has always been more than just ornamentation; it's a representation of one's character, sense of fashion, and uniqueness. A touch of sophistication can be added to any outfit with chic jewellery, which goes above and beyond the ordinary. Giving a stylish jewellery gift to your loved ones is a wonderful way to show them how much you care and how much you love them. Chic accessories can completely change the way you look and increase confidence, whether you choose timeless pieces like pearls and diamonds or try out bold statement jewellery. You can express your love and respect for someone special by giving them a chic fashion jewellery gift. You can get a wide range of trendy solutions with a budget of $50,000 to meet different likes and preferences.
Jewellery has always been seen as a mark of adoration, gratitude, and celebration, from exquisite pearls to brilliant jewels. It is a symbol of friendship, love, and various other emotions that can bring back memories and feelings. Additionally, unlike other gifts, jewellery maintains its beauty and appeal throughout time. Jewellery can be personalized, which can give it sentimental value. You may also accessorize any clothing with jewellery to make it sparkle more. Jewellery stands out as a timeless and meaningful option in a world full of trending styles and disposable presents. It is an exceptional present for every occasion thanks to its timeless beauty, personalization options, and capacity to evoke strong emotions.
Here are the top best fashion jewellery gift ideas under 50k
1. Indian Jewellery:
Indian jewellery is a symbol of the nation's rich artistic and cultural history. Jewellery is a treasured component of Indian culture and lifestyle since each type has its special appeal and importance. There are many different types of Indian jewellery, including Polki, Kundan, and meenakari. Kundan jewellery features elaborate designs with jewels set in gold that are frequently accented by a foil of silver to bring out the stone's brilliance. Because uncut diamonds are used and are arranged in intricate designs, polki jewellery is valued highly. Meenakari jewellery is decorated with vivid colours and intricate details, including floral and natural motifs.
You can give some of this jewellery to your loved ones as a gift because it perfectly blends history and modernity. These pieces of jewellery were handed down to us from our ancestors and can be passed on to subsequent generations. They will therefore always be loved. You might gift them jewellery such as gold sets, necklaces, and earrings.
2. Indian Earrings: 
As there are many types of Indian jewellery, there are equally numerous types of Indian earrings. Jhumka earrings are legendary types of Indian earrings. These stunning bell-shaped objects come in a range of shapes and sizes, from tiny and delicate to large and elaborate. Indian women frequently choose chandbali earrings. The brilliant enamel work, delicate meenakari patterns, or colourful stones like Kundan or polki incorporated in these earrings are common features. A distinctive feature of Kundan earrings is the use of exquisite glass or polki stones.  Meenakari earrings include intricate patterns and brilliant colours that are expertly hand-painted.
You have access to a huge selection of possibilities. Earrings can be given as gifts depending on the occasion. It is an appropriate gift if it is a wedding. It's easy to find beautiful earrings for under 50,000 rupees.
3. Artificial Marriage Jewellery: 
Marriage is a big occasion that is full of joy, laughter, and lovely memories. It is a celebration of love and commitment. Selecting the ideal bridal jewellery is an important stage in the many preparations that go into preparing a wedding. Artificial marriage jewellery has become very fashionable recently, even though conventional jewellery made of precious metals and gemstones is exquisite. Brides prefer to do online artificial jewellery shopping as they can also customize their jewellery.
Artificial marriage jewellery is a less expensive option than traditional precious jewellery and is frequently constructed of components like cubic zirconia, premium crystals, and alloy metals. Regarding design, it has an incredible range. There are numerous selections to fit every bride's taste and wedding theme, ranging from vintage-inspired pieces to modern and current fashions. Many manufacturers of artificial jewellery provide customization options, enabling women to construct one-of-a-kind items that precisely complement their wedding gowns and personal tastes.
Types of Artificial Jewellery: 
There are many types of artificial jewellery. Classic Sets include beautiful bracelets, earrings, and necklaces with elegance. Modern and stylish jewellery designs for today's fashion-conscious brides are found in contemporary pieces. Traditional Designs include intricately crafted jewellery sets inspired by local and cultural customs. Bold, striking jewellery that adds drama to the bridal appearance includes statement jewellery. There is a universe of artificial jewellery ready to adorn you, whether you favour the timeless beauty of imitation pearls, the brightness of CZ stones, or the originality of resin and acrylic pieces.
Artificial marriage jewellery has developed beyond its initial image as a cheap substitute. Due to its simplicity, adaptability, possibilities for customization, durability, and ethical considerations, it has become a popular alternative for many brides. Brides are becoming more and more attracted to numerous types of artificial jewellery because of its elegance and usefulness, which enables them to look and feel their best on their special day without sacrificing quality or style. Online artificial jewellery shopping has become popular with youngsters, as we get a huge variety.
Frequently Asked Question (FAQ)
What is fashion jewelry, and why is it a great gifting option? 
The term "fashion jewellery" describes jewellery made from less expensive components such as base metals, acrylic, glass, plastic, and synthetic gemstones.  Fashion jewellery is a flexible, cost-effective, and elegant gifting solution that can be used for a variety of occasions and tastes. It is a great alternative for showing your appreciation, affection, and sense of style while presenting gifts because of its accessibility, trendiness, and customization possibilities.
Can you recommend chic fashion jewelry pieces that are suitable for gifting? 
Some of the presents that you can give to your loved ones include pearl stud earrings, a layered necklace set, a cuff bracelet, hoop earrings with a twist, personalized name necklaces, statement rings, tassel earrings, anklets, bangle bracelet sets, mismatched earrings, and choker necklaces. Additionally, you can get affordable Indian gold jewellery.
What types of materials are commonly used in chic fashion jewelry?
The designer's concept and the desired style of the piece will influence the materials selected for chic fashion jewellery. Wood, glass crystals, enamel, feathers, glass crystals, metal alloys, and cubic zirconia are a few of the materials that are utilized to create artificial chic fashion jewellery.
How do I choose fashion jewelry that matches the recipient's style? 
You can observe their style and their wardrobe. Or you could indirectly ask for their preferences. You can also take note of their existing jewellery. If you are unsure of your options, consider the occasion for which the jewellery is needed or purchase a piece of jewellery that can be worn with any attire. Collection 2019 Sale 70% Off Title for image